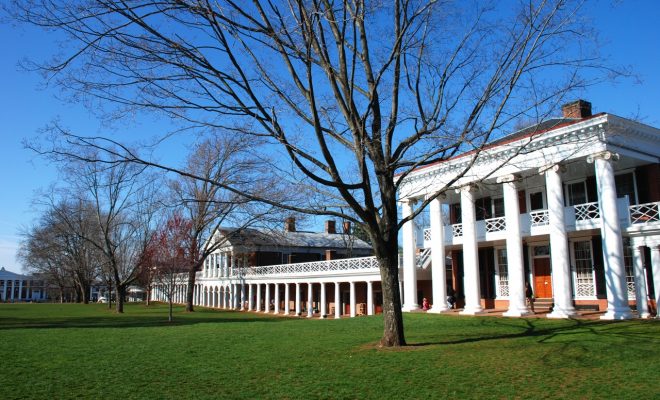 Image courtesy of Rex Hammock; License: (CC BY-SA 2.0)
Politics
State of Emergency Declared in Charlottesville
By
|
Last night, white nationalists descended on Charlottesville, Virginia, where the University of Virginia is located. Many carried nazi or confederate flags, along with other symbols of white supremacy. Charlottesville has turned into somewhat of a powder keg after plans to remove a confederate statute from a nearby park sparked protests. Today, a car drove straight into a crowd of Black Lives Matter counter-protesters, killing at least one and injuring others. In response to the violence brought by the protesters, Governor Terry McAuliffe has declared a state of emergency in Virginia.
Scenes from the events last night and today have reverberated on social media, with many calling it out for what it is: blatant white supremacy and domestic terrorism.
Emblematic indeed#Charlottesville pic.twitter.com/qTvTB3BpSa

— Andy Campbell (@AndyBCampbell) August 12, 2017
My full statement on the horrifying white supremacist demonstrations and violence in Charlottesville: pic.twitter.com/IFXmqFLv4i

— Senator Tim Kaine (@timkaine) August 12, 2017
Regardless of who this evildoer is… this is terrorism. #Charlottesville pic.twitter.com/8eOWpJKp5R

— Ammar Campa-Najjar (@ACampaNajjar) August 12, 2017
Mr. President – we must call evil by its name. These were white supremacists and this was domestic terrorism. https://t.co/PaPNiPPAoW

— Cory Gardner (@SenCoryGardner) August 12, 2017
Of course, all eyes were on one particular individual's reaction. President Donald Trump gave a short statement on Saturday afternoon, saying that "we condemn in the strongest possible terms this egregious display of hatred, bigotry and violence on many sides, on many sides." But as many pointed out, there aren't that many sides to this debate: there are violent white supremacists and then there are peaceful counter-protesters.
No, Mr. President, not "many sides." There is one side with nazi flags and nazi salutes. America is not on that side. https://t.co/sDpFC9buIz

— Senator Dick Durbin (@SenatorDurbin) August 12, 2017
MANY SIDES?!? Ive typed and deleted at least 8 tweets. Words simply arent strong enough to accurately describe how I feel about Donald Trump

— Chris Evans (@ChrisEvans) August 12, 2017
The violence, chaos, and apparent loss of life in Charlottesville is not the fault of "many sides." It is racists and white supremacists.

— Mark Herring (@MarkHerringVA) August 12, 2017
To be frank, no one expected Trump to have a particularly strong response. Trump had a track record of refusing to condemn white nationalists or violence at his campaign events. But, as the president of the United States, he needs to be doing better. As scenes continue to unfold in Charlottesville, the blatant white supremacy on display needs to be condemned in the harshest of possible terms.