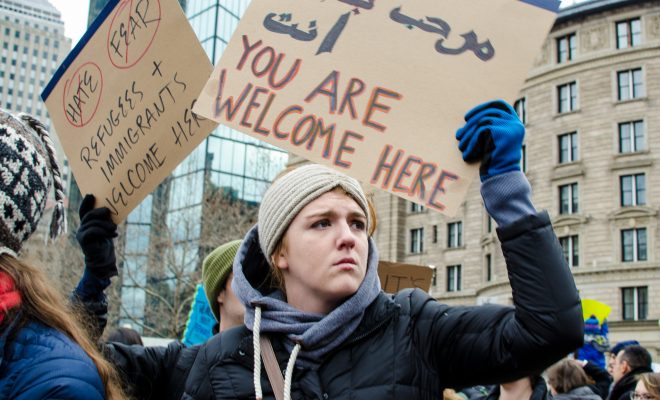 Image courtesy of Kristin "Shoe" Shoemaker; License: (CC BY-ND 2.0)
RantCrush
RantCrush Top 5: January 30, 2017
By
|
Hashtag of the day: #DeleteUber was trending over the weekend as the news was dominated by chaos and confusion over the Trump Administration travel ban. If you're wondering what that hashtag stands for, check this out. Then read on for the latest rants.
Welcome to RantCrush Top 5, where we take you through today's top five controversial stories in the world of law and policy. Who's ranting and raving right now? Check it out below:
On Friday, President Donald Trump issued an executive order, banning people from seven Muslim-majority countries from entering the United States. The order came abruptly and caused immense chaos at airports around the country, as people arriving from the affected countries were detained. Serious protests erupted, mainly at airports, and the move has been sharply condemned by, well, most people internationally.
It will probably have serious consequences in many ways. American academic institutions, hospitals, and businesses rely on experts and professionals from other countries. Iraq has already said it will retaliate. And an online petition in the U.K., aiming to keep Trump from making a state visit, quickly got over a million signatures.
IMAGE: Protests at airports across the United States pic.twitter.com/7OEqC9HtaT

— The Int'l Spectator (@spectatorindex) January 29, 2017
Initially, the ban also applied to green card holders and people with dual citizenship. Stories about students being stranded after a vacation or people unable to get home flooded the media over the weekend. An Iraqi man who worked as a translator for the U.S. military for a decade was detained for 18 hours at JFK Airport in New York.
As of now, it appears that no one is being detained or held at an airport anymore and there have been exemptions for 392 green card holders who have been allowed into the country. Fifteen attorneys general have issued a statement condemning Trump's actions, calling it an "unconstitutional, un-American and unlawful Executive Order." There is still confusion over what the order will actually mean, but the courts, big companies like Google and Facebook, celebrities, and ordinary citizens are all fighting back.
The synagogue where President Trump's grandchild goes to preschool has condemned his travel ban https://t.co/jpunSV0ReA pic.twitter.com/0GbC3AM3ZG

— CNN International (@cnni) January 30, 2017