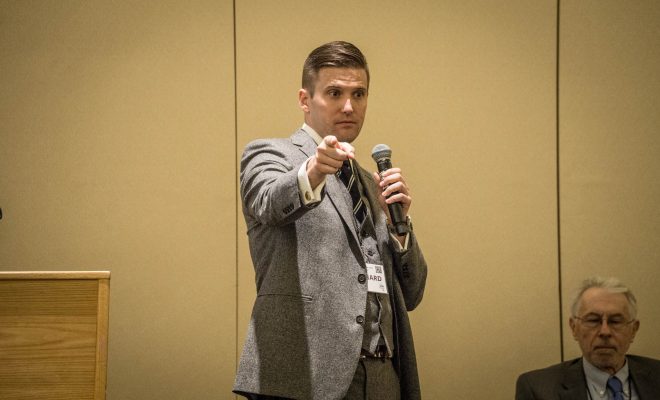 "Richard Spencer" courtesy of V@s; License: (CC BY 2.0)
RantCrush
RantCrush Top 5: February 24, 2017
By
|
Welcome to RantCrush Top 5, where we take you through today's top five controversial stories in the world of law and policy. Who's ranting and raving right now? Check it out below:
On Wednesday a white man opened fire in a bar in Olathe, Kansas, killing one man and injuring two others. The suspect, Adam W. Purinton, allegedly yelled "get out of my country" before firing at two men, both originally from India. Srinivas Kuchibhotla, 32, was killed and his friend Alok Madasani, 32, was injured. Ian Grillot, 24, intervened and tried to subdue Purinton until police arrived, but was shot in the hand and chest. Purinton fled on foot but was arrested in Missouri six hours later. The FBI has now joined the police investigation to try and determine if it will be classified as a hate crime. And some on social media have called Trump out for his silence, wondering why the president is quiet whenever crimes are perpetrated against immigrants.
Your daily reminder that no refugee from the 7 countries named in the Muslim ban has ever done something like this. https://t.co/t84s4gutwS

— Chris Murphy (@ChrisMurphyCT) February 24, 2017
The two Indian men worked as engineers for Garmin. The father of the injured man urged his son to move back home. "The situation seems to be pretty bad after Trump took over as the U.S. President. I appeal to all the parents in India not to send their children to the U.S. in the present circumstances," he told an Indian newspaper.