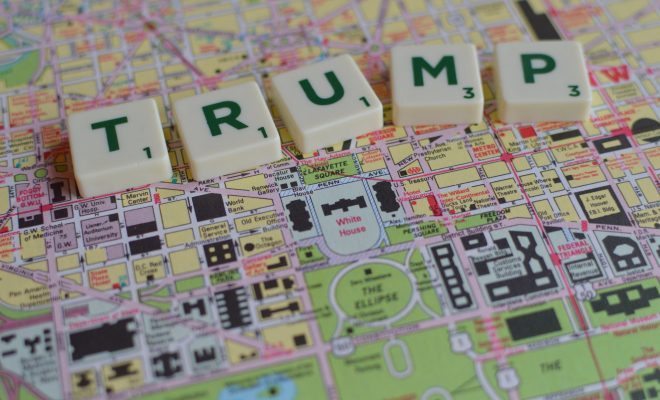 Image courtesy of [speedpropertybuyers.co.uk/Jeff Djevdet via Flickr]
Politics
Let's Imagine an America Led by President Trump
By
|
Donald Trump possesses the most divisive surname in America. He climbed from the top tier of reality television to the top of the Republican Party ticket. Hardly anybody saw this coming. It's as if he was plucked from the brain of a science fiction novelist with a political bent, not quite believable enough to put on the page. But he is real, as is his movement. And if he can prove the pundits wrong once, can he a second time? During the primary cycle, political futurists swung and missed. But now that Trump the nominee is a reality–and the prospect of a President Trump looms–analysts, journalists, and soothsayers alike tap into their imaginations (and whatever concrete stances Trump has given them to build off) to forecast what an America led by the real estate scion might look like.
That's exactly what happened Wednesday at New America–a Washington D.C. think tank–at an event titled "Imagining President Trump." A stable of liberal and conservative thinkers gazed into their crystal balls to chew on what a Trump presidency might portend for the country and the very make up of America's political system.
Foreign Policy
"America first." That is the gist of Trump's foreign policy platform, and that would be the driving force behind his relationships with the rest of the world. At least we think.
"You can take him on his word on Monday and then you look at his word on Tuesday and it's the opposite of what he said on Monday so you don't know," said Injira Lakshmanan, a columnist for The Boston Globe and Politico.
She noted the foreign policy speech Trump delivered–via teleprompter, a rarity for him–at the Mayflower Hotel in Washington a few weeks ago, where he outlined what his foreign policy approach would be as president: He derided America's historical lack of a coherent foreign policy, while also promising to be unpredictable, two seemingly incompatible notions.
Trump has sworn to destroy the Islamic State, though ceding that can only be done with a sizable surge of ground troops, from 20,000-30,000. But those will not be American troops, Trump has said. World leaders are terrified of an America led by Trump, Lakshmanan said, and as President Obama and Vice President Joe Biden's recent trips abroad have shown, the current administration is attempting to assuage those fears. She also predicted that if President Trump removed the dollar as the world's reserve currency, as he has indicated, world governments might reign in–or pull out altogether–their dollar investments.
"A lot of this is Trump flying by the seat of his pants. He throws out ideas as they occur to him, that feel right, but they are very contradictory," Lakshmanan said, adding: "The rest of the world is terrified."
First 100 Days In Office
For the last few decades at least, a popular metric when measuring a president's success is his (or her) first 100 days as commander in chief. Is the status quo upheld or flipped on its head? Are campaign promises kept? Are new amenities added to the White House?
"I wouldn't be surprised at all if both parties decide to conspire to make him the least effective president in his first hundred days," predicted Lara Brown, director of George Washington University's Political Management Program at the Graduate School of Political Management. She said it is in neither parties' interest to have him succeed.
Matthew Continetti, the Editor in Chief of the Washington Free Beacon, a conservative-leaning political news site, said that Trump's chief concern is being the center of the national conversation. Continetti believes that that hunger and his need to be talked about will lead to several disasters in his first 100 days: "a dysfunctional government, internecine warfare among his staff, and geopolitical instability."
But Brown predicts Trump's first 100 days might also deliver a shock to the voters who elected him to the highest office in the land. These are people who fixated on him because of his blustery promise of radical change, but who "would actually become profoundly disillusioned because it's much more likely there would be no change," Brown said.
The Republican Party
In securing the Republican nomination, Trump tapped into currents that went largely ignored by the establishment in past elections. He stirred up anger and discontent that stemmed from broken promises throughout the years. Millions of people–whether staunch conservatives, sort of conservatives, and even some disillusioned Democrats–latched onto his blunt rhetoric as the answer to an entrenched political system that has left them behind. Win or lose, Trump has sent shockwaves through the GOP, perhaps shifting its identity forever.
Continetti sees two paths forward for the party of Lincoln: the Ben Sasse option and the Tom Cotton option. Both young Republican senators–Sasse of Nebraska and Cotton of Arkansas–represent two competing factions of the party's mood, a fissure exacerbated and revealed by Trump's ascension. The Sasse route would embrace the moral majority image of the party and update it for a new century, something Ted Cruz tried to tap into in his failed run. For this reason, and for the sinking of the #NeverTrump movement and Sasse's own failure to drum up support for a third-party run in November, Continetti does not see this path materializing.
Instead, the "white, populous, protectionist, 'America first,'" option will likely prevail, Continetti said, the swath of the electorate that Cotton and especially Trump have spoken to. Norman Ornstein, also part of Wednesday's five member panel and a contributing editor to The Atlantic, sees the warring factions within the Republican Party as akin to the ethnic divisions tearing apart the Middle East. He predicted that if America's 45th president is indeed Donald Trump, Democrats might cozy up to him more than members of his own party would.
"He's going to have more allies among Democrats than he will among Republicans, which will drive a good portion of that Republican base even more up the wall," he said.
It is important to note that all five panelists on Wednesday agree that a Trump White House is unlikely. But he was written off once before, and we all know how that turned out.