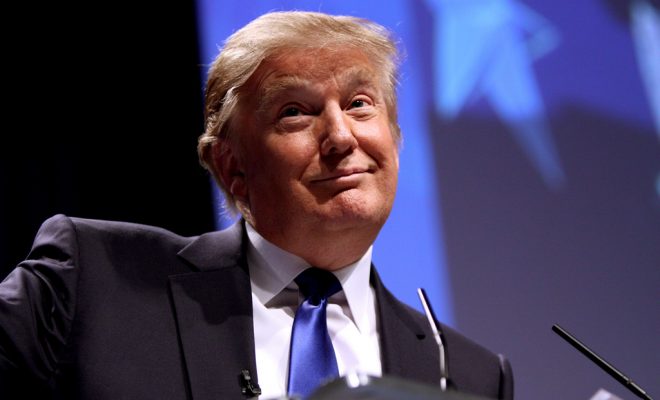 Image Courtesy of Gage Skidmore; License: (CC BY-SA 2.0)
Politics
Will Trump's Conversation with Taiwan Damage the U.S.-China Relationship?
By
|
In a reversal of 37 years of protocol, President-elect Donald Trump engaged in a telephone conversation on Friday with Taiwan's President Tsai Ing-wen. The Trump team painted the 10-minute call as nothing more nefarious than a simple congratulatory gesture from one leader to another.
"He took the call, accepted her congratulations and good wishes and it was precisely that," Vice President-elect Mike Pence said Sunday on ABC. China said the call was "petty," but nothing too damaging. But was the call–which some advisors have said was months in the making–a foreshadowing of the coming shift in the U.S. relationship with China and Taiwan under the Trump Administration?
The President of Taiwan CALLED ME today to wish me congratulations on winning the Presidency. Thank you!

— Donald J. Trump (@realDonaldTrump) December 3, 2016
The decision to engage with Taiwan's president was hardly spontaneous, but was a calculated and planned move, advisors to Trump and people familiar with the plans told The Washington Post. A spokesman for the Taiwan government told Reuters, "of course both sides agreed ahead of time before making contact."
Since 1979, under President Jimmy Carter, the U.S. has maintained an economic relationship with Taiwan (mostly selling it arms), but not a diplomatic one, honoring the so-called "One China" policy that recognized the tiny island as a part of China. China considers Taiwan to be a breakaway province.
Trump, who for months has called China a "currency manipulator," has signaled he will be taking a tougher stance on the country. Trump challenged the "One China" policy by taking a call with Taiwan, and by referring to Tsai as "the President of Taiwan." China refers to the president of Taiwan as "the Taiwan regional leader." Earlier this year, China severed diplomatic relations with Tsai, who was elected in January, because of her pro-independence bent.
Interesting how the U.S. sells Taiwan billions of dollars of military equipment but I should not accept a congratulatory call.

— Donald J. Trump (@realDonaldTrump) December 3, 2016
An op-ed published Saturday in China's state-run publication China Daily said the call was "a striking move but it does not bear the same importance as it seems to be." It said that for Tsai, the phone call will "bring nothing substantial but illusionary pride." But for the U.S., the move could signal a tougher stance on China, and an opening to Taiwan. Republicans have long expressed the need for a stronger U.S.-Taiwan relationship, coinciding with a need to be tougher on China, a key U.S. trading partner that Trump has threatened to clamp down on.
But for the time being at least, the U.S.-China relationship remains strong, and Trump's team sought to reassure both governments of that in the days after the feather-ruffling phone call. "All [Trump] did was receive a phone call," Trump's advisor Kellyanne Conway said on Sunday. "Everybody should just calm down. He's aware of what our nation's policy is."