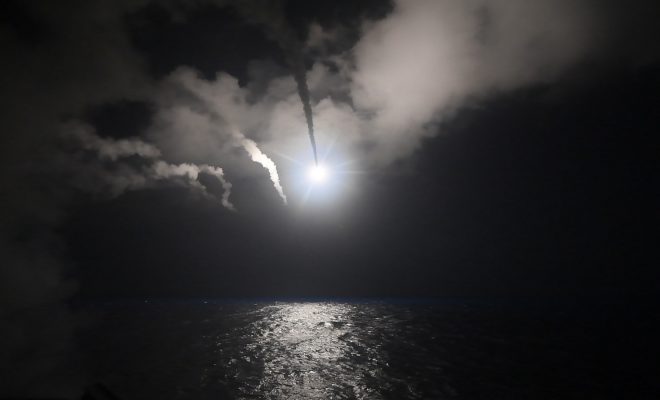 Image Courtesy of Official U.S. Navy Page; License: (CC BY 2.0)
Politics
What You Need to Know About the Missile Strike in Syria
By
|
The U.S. military struck a Syrian airfield with 59 Tomahawk cruise missiles late Thursday night, marking its first direct strike against the Syrian regime in the country's six-year civil war. Authorizing the strike from his Mar-a-Lago estate in Florida, on the first day of a two-day meeting with Chinese President Xi Jinping, President Donald Trump said the attack was meant to signal the U.S.'s willingness to escalate its role in the conflict. He said it was a response to the chemical attack on Tuesday, which killed up to 100 civilians, and was believed to be carried out by Syrian President Bashar al-Assad's government.
"Tonight, I ordered a targeted military strike on the air base in Syria from where the chemical attack was launched," Trump said in remarks at Mar-a-Lago. "It is in this vital national security interest of the United States to prevent and deter the spread and use of deadly chemical weapons." The strikes, which commenced at 8:40 p.m. EST and lasted three to four minutes, launched from two U.S. ships in the Mediterranean.
With the strike, Trump signaled to Syria, its allies Russia and Iran, and the rest of the world that the U.S. is changing its calculus in a region where it has long resisted direct action. Former President Barack Obama–whose "weakness and irresolution" was to blame for Tuesday's chemical attack, the new administration said–was reluctant to directly strike the Syrian regime, afraid that deposing Assad would only make things worse.
As a result of Obama's failure to stop Assad, Trump said on Thursday, "the refugee crisis continues to deepen, and the region continues to destabilize, threatening the United States and its allies." According to U.S. officials, in a meeting on Wednesday with military advisers, including Defense Secretary Jim Mattis, Trump was presented with three options in responding to the chemical attack. He chose the "one-off" missile strike against the Al Shayrat airfield, which advisers describe as the tamest option.
Pentagon spokesman Jeff Davis said an early review indicated the strike "severely damages or destroyed Syrian aircraft and support infrastructure and equipment…reducing the Syrian government's ability to deliver chemical weapons." Trump's decisiveness was welcome by a host of international and domestic actors–from Israel and Syrian activist groups to a bipartisan cohort of senators and some former Obama officials.
"Unlike the previous administration, President Trump confronted a pivotal moment in Syria and took action," Sen. John McCain (R-AZ) and Sen. Lindsey Graham (R-SC) said in a joint-statement. "For that, he deserves the support of the American people." Sen. Chuck Schumer (D-NY) also applauded the decision to strike. "Making sure Assad knows that when he commits such despicable atrocities he will pay a price is the right thing to do," he said in a statement. Others said his decision was rushed and, if unaccompanied by a long-term vision, potentially dangerous and ineffectual. 
By directly striking Assad, Trump could jeopardize any further cooperation with Russia in fighting Islamic State, which has a substantive–yet shrinking–footprint in the country. A Russian spokesman said the strike "deals a significant blow" to U.S.-Russia relations, and "creates a serious obstacle" to fighting terrorism. Though its stated goal in joining the fight in Syria a few years ago was to combat terrorism, Russia has played a significant role in propping up the Assad regime. Russia, the Pentagon said, was notified of the strike beforehand; no Russians were killed in the attack.
Secretary of State Rex Tillerson is due to meet with Russian officials next week in Moscow. U.S. officials said Thursday's strike was meant to provide leverage in the talks, and to show the Russians they can no longer act with impunity in Syria. "This clearly indicates the president is willing to take decisive action when called for," Tillerson said. "The more we fail to respond to the use of these weapons, the more we begin to normalize their use."