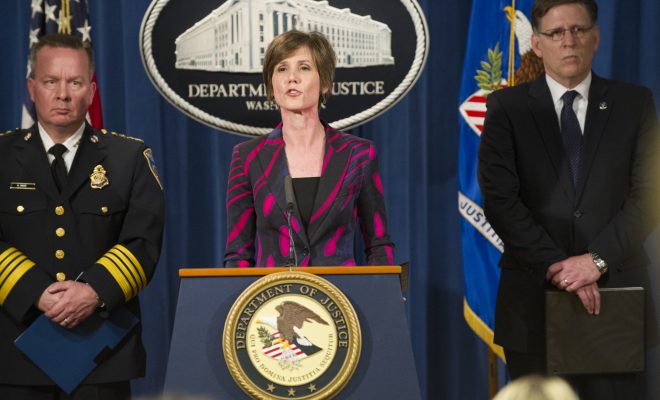 Image Courtesy of Office of Public Affairs; License: (CC BY 2.0)
Politics
Who is Sally Yates and Why Did President Trump Fire Her?
By
|
President Donald Trump fired Sally Yates, the acting attorney general, late Monday night, after she said she would not defend an executive order the president signed last Friday. Dana Boente, a U.S. attorney for the Eastern District of Virginia, will serve as the acting attorney general for the time being. The Senate Judiciary Committee is expected to hold a confirmation vote on Jeff Sessions, Trump's choice for attorney general, as early as Tuesday.
The controversy that culminated in the firing of Yates began last Friday, when Trump signed an executive order, barring citizens from seven Muslim-majority countries from coming to the U.S. for at least 90 days. Syrians are blocked indefinitely, and refugees from all countries will not be admitted to the U.S. for at least 120 days. Widespread dissent followed Trump's order: thousands of protesters hit major airports and city streets around the country; Democrats, and many Republicans spoke out; and many religious and business leaders decried the order.
Late Monday afternoon, Yates sent a letter to Justice Department lawyers:
I am responsible for ensuring that the positions we take in court remain consistent with this institution's solemn obligation to always seek justice and stand for what is right. At present, I am not convinced that the defense of the Executive Order is consistent with these responsibilities nor am I convinced that the Executive Order is lawful.
According to Justice Department officials, Yates had been struggling with how to respond to Trump's divisive order, and had even considered resigning. Trump responded to Yates' defiance in a Twitter post last night, a few hours before she was fired:
The Democrats are delaying my cabinet picks for purely political reasons. They have nothing going but to obstruct. Now have an Obama A.G.

— Donald J. Trump (@realDonaldTrump) January 31, 2017
Monday evening, at about 9:15 p.m., Yates received a hand-written letter from the White House, stating: "the president has removed you from the office of Deputy Attorney General of the United States." Soon after, a statement by White House Press Secretary Sean Spicer said Yates "is weak on borders and very weak on illegal immigration."
Spicer defended Trump's executive order, which was approved by the Justice Department's Office of Legal Counsel "with respect to form and legality." Spicer said: "Calling for tougher vetting for individuals traveling from seven dangerous places is not extreme. It is reasonable and necessary to protect our country."
Attorneys general have resigned from their posts over the past few decades, but it is quite rare for one to be fired. In fact, the last time this happened was in 1973, during the so-called Saturday Night Massacre, when President Richard Nixon fired his attorney general and deputy attorney general. They were fired because they refused to dismiss the special prosecutor in the Watergate case.