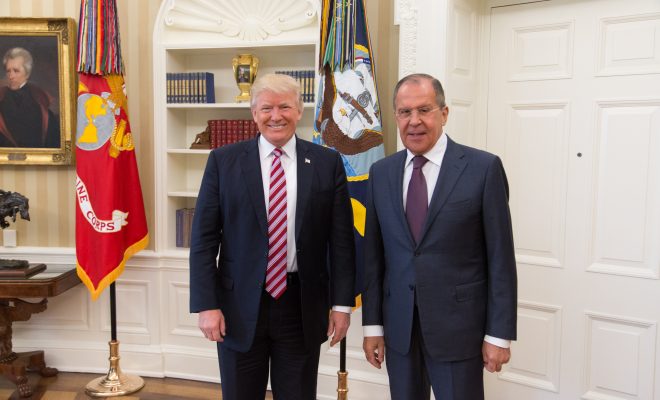 Image Courtesy of The White House; License: public domain
Politics
Trump Confirms He Shared Classified Intel with Russian Officials
By
|
In a meeting last week with top Russian officials, President Donald Trump discussed classified information regarding an Islamic State threat, according to current and former U.S. officials. The revelations sparked outrage in Washington, even among high-ranking Republicans, and raised international questions about whether the U.S. under Trump is a reliable intelligence-sharing partner.
According to the Washington Post report, Trump shared an ISIS plot involving commercial aircraft and laptop computers with the Russian officials, Foreign Minister Sergei Lavrov and Ambassador to the U.S. Sergey Kislyak. The president also reportedly shared the name of a Syrian city in which the intel was collected by an unnamed ally in the Middle East. White House officials denied the report, and said Trump did not disclose how the classified intelligence was gathered, or by which Middle Eastern ally.
But early Tuesday morning, Trump took to Twitter to confirm that he did indeed share intel with the Russians concerning an ISIS plot, for "humanitarian reasons." The president tweeted:
As President I wanted to share with Russia (at an openly scheduled W.H. meeting) which I have the absolute right to do, facts pertaining….

— Donald J. Trump (@realDonaldTrump) May 16, 2017
…to terrorism and airline flight safety. Humanitarian reasons, plus I want Russia to greatly step up their fight against ISIS & terrorism.

— Donald J. Trump (@realDonaldTrump) May 16, 2017
Still, the main concern is that Russia, which is backing Bashar al-Assad's Syrian regime, could glean how and from whom the U.S. receives its intelligence in regard to the fight against ISIS. A senior European intelligence official, speaking anonymously, told the Associated Press on Tuesday morning that if the Post's report was accurate, his country, which the official did not want to be named, could stop sharing intelligence with the U.S.
Top Republicans were dismayed by the report that the Trump Administration was embroiled in yet another controversy, less than a week after Trump dismissed FBI Director James Comey. "The White House has got to do something soon to bring itself under control and in order," said Sen. Bob Corker (R-TN), the chairman of the Foreign Relations Committee. "To compromise a source is something that you just don't do, and that's why we keep the information that we get from intelligence sources so close as to prevent that from happening."
Sen. John McCain, perhaps the most vocal Republican critic of Trump, called the intelligence sharing "deeply disturbing." He continued, in a statement on Tuesday: "Reports that this information was provided by a U.S. ally and shared without its knowledge sends a troubling signal to America's allies and partners around the world and may impair their willingness to share intelligence with us in the future." Top Senate Democrats also responded with concern:
If true, this is a slap in the face to the intel community. Risking sources & methods is inexcusable, particularly with the Russians. https://t.co/CRiSC024F7

— Mark Warner (@MarkWarner) May 15, 2017
Before the Post story was published on Monday, the White House denied its claims. For its part, the Kremlin derided the report as "complete nonsense." National Security Adviser H.R. McMaster said the sources and methods of the intelligence gathering was not discussed in the meeting, "and the president did not disclose any military operations that were not already publicly known." In a press conference on Tuesday, McMaster indicated that Trump was unaware the information he shared with the Russian officials was classified, and that the discussion that took place was "wholly appropriate."