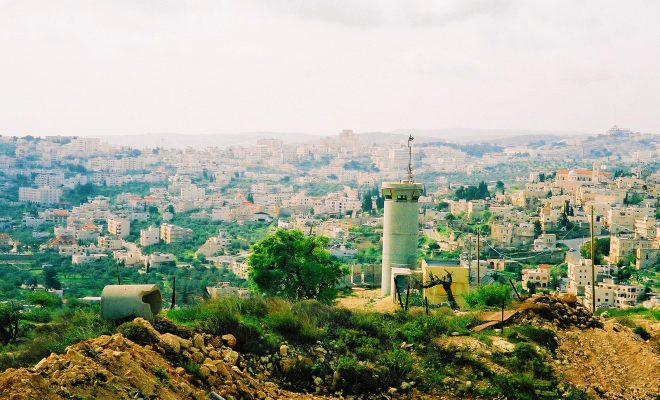 Image Courtesy of SarahTz; License: (CC BY 2.0)
Politics
Trump Says He's Open to a One-State or Two-State Solution for Israel-Palestine
By
|
Standing next to Prime Minister Benjamin Netanyahu of Israel on Wednesday afternoon, President Donald Trump said that Israel can expect strong support from the U.S., but also cautioned further settlement building in the West Bank, calling it an impediment to peace. But in stark contrast to the decades-long U.S. position on Israel and Palestine, Trump said he is open to a one-state or two-state solution to the conflict, as long as it's one that "both parties like."
The press conference, which preceded a closed-door meeting between Trump and Netanyahu, was a highly anticipated litmus test to see where Trump stood, not only on the two-state solution between Israelis and Palestinians, but also on other regional issues, like Iran's nuclear program, and whether he would move the U.S. embassy currently in Tel Aviv to Jerusalem.
Trump's ascendence to the presidency has been a hopeful development for Netanyahu, who had a fairly terse relationship with President Barack Obama. As Israel continues to construct settlements in the West Bank–Netanyahu recently approved an entirely new settlement for the first time in 25 years–many see the two-state solution, in which an Israeli and Palestinian state exist side-by-side, as the folly of a bygone era. Israeli lawmakers to the right of Netanyahu have been ramping up the pressure to annex the territory, which Israel has occupied since 1967, after it defeated Egypt, Jordan, and other Arab states in the Six Day War.
In his remarks on Wednesday, Netanyahu insisted his official stance on the conflict (he supports two states) "hasn't changed." But he did not explicitly express support for the idea. And neither did Trump. "I'm looking at two states and one state, and I like the one that both parties like," Trump said, adding that the U.S. "will encourage a peace, and really a great peace deal," regardless of what that deal ultimately looks like.
Trump did say continued settlement building is an obstacle to peace, which has been the mainstream U.S. position for decades. He told Netanyahu to "hold off on settlements for a little bit," then, tilting his head to the right, looked at Netanyahu and said: "Both sides will have to make compromises. You know that, right?" Netanyahu chuckled and responded: "Both sides." Netanyahu, in his comments, called on the Palestinians to hold up their end of the bargain. Trump stressed that in the end, a deal could only be struck directly by the two negotiating partners.
Netanyahu named two "prerequisites" for peace. "First, the Palestinians must recognize the Jewish State," the prime minister said. "They have to stop calling for Israel's destruction. They have to stop educating their people for Israel's destruction." Second, Netanyahu said, Israel must retain security control over the entire area west of the Jordan River, which includes Israel and the West Bank. Otherwise, he said, there will be "another radical Islamic terrorist state."
Welcome to the United States, @IsraeliPM Benjamin & Sara!#ICYMI🇺🇸🇮🇱Joint Press Conference: https://t.co/GN6ALWUusN pic.twitter.com/bH60nBL5FP

— Donald J. Trump (@realDonaldTrump) February 15, 2017
Trump has recently embraced the so-called "outside-in" approach to solving the conflict. According to this strategy, Israel would forge deeper relationships with Sunni Arab states like Qatar, Egypt, and Jordan. Concentrating on common issues like trade, and common enemies like Iran and Islamic State, the Arab world would then come together to pressure the Palestinians to negotiate with the Israelis and, ideally, forge a state of their own. But this is still somewhat of a fringe idea, as many Arab states are experiencing crises of their own, and the Palestinian issue is hardly at the front of their agendas.
The two leaders discussed other pertinent issues as well. One reporter asked Trump about his plans to move the U.S. embassy from Tel Aviv to Jerusalem, which Israel claims as its capital and the Palestinians claim as the capital to any future state. Without much detail, Trump said he would "love to see that happen." It is not clear if that sentiment is mutual in Israel, both among the populace and the government. Many Israelis see it as a move that can wait; it could incite Palestinian violence as well.
Toward the end of the press conference, an Israeli reporter asked Trump about the rising anti-Semitism in the U.S., and about the xenophobic elements of his campaign. Trump responded by gloating about his election victory: "Well, I just want to say that we are, you know, very honored by the victory that we had." In response to the rise in anti-Semitic incidents since his election win, Trump pointed to his daughter Ivanka, who converted to Judaism, and his son-in-law Jared Kushner, who is an Orthodox Jew. "You're going to see a lot of love. Okay? Thank you," he said.