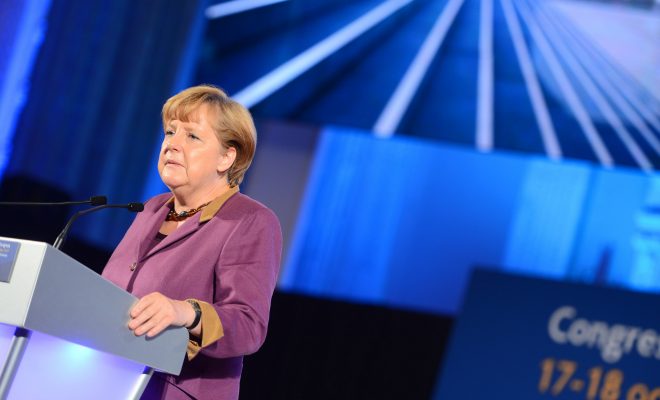 "Angela Merkel" Courtesy of European People's Party; License: (CC BY 2.0)
Politics
Trump and Merkel Meet to Discuss NATO, Trade, and Russia
By
|
President Donald Trump met with the leader he once said was "ruining Germany" at the White House on Friday: German Chancellor Angela Merkel. In their first face-to-face visit, Trump and Merkel were expected to discuss a number of topics that concern Germany, the U.S., and the rest of the world: NATO, Russia, the European Union, refugees, and North Korea.
Merkel came to Washington with a business-centric agenda in mind. She was accompanied by top executives from BMW, Siemens, and other top German businesses that trade with the U.S. In a recent interview with a German newspaper, Merkel said she planned to stress to Trump the importance of the U.S. and Germany's trade relationship. "I'll make that clear," she said.
But it wasn't all business-as-usual, like this very awkward moment:
Photographers: Can we get a handshake?
Merkel (to Trump): Do you want to have a handshake?
Trump: *no response*
Merkel: *makes awkward face* pic.twitter.com/ehgpCnWPg7

— David Mack (@davidmackau) March 17, 2017
During a press conference that followed their two-hour private conversation, Trump and Merkel largely focused on areas the U.S. and Germany cooperate on–trade and defense. Trump praised Germany for its work-training programs. But echoing a point he repeatedly made as a candidate and early on in his presidency, Trump said Germany and other NATO members must "pay their fair share."
Merkel agreed that Germany must do more to meet its commitment to the defense alliance–each NATO member is expected to pay two percent of its GDP per year, a mark all but the U.S. fall short of–and promised that she would make sure it does. The press conference was tense at times, which is hardly surprising, given the history of animosity between the two leaders.
At a campaign event last March, Trump said "the German people are going to end up overthrowing this woman," in reference to Merkel and her open-door refugee policy. "I don't know what the hell she's thinking." Trump has called Merkel's refugee policy, in which she welcomed roughly a million refugees to Germany, a "catastrophic mistake."
Some other notable snippets from the press conference:
Trump said he is "not an isolationist," but a "free trader" and a "fair trader."
Trump said immigration is a privilege, not a right.
Merkel said globalization "ought to be shaped in an open-minded way but also in a very fair way."
When asked by a German reporter if he ever regrets his tweets, Trump said: "very seldom."
With populist movements gaining traction in the U.S. and Europe–many with isolationist, anti-globalization, and anti-establishment elements–Germany is a valuable democratic partner for America, as it has been for decades. But Trump's apparent embrace of anti-EU forces, and of Britain's exit from the EU, has many U.S. allies questioning his commitment to the traditional western order.
One thing is clear: Trump still believes Trump Tower was wiretapped by President Barack Obama during the 2016 campaign. When asked about his claim, which has been struck down by U.S. intelligence officials and high-ranking Republicans, Trump said he and Merkel, who the NSA has reportedly spied on, "have something in common, perhaps." Visibly taken aback, Merkel said nothing.