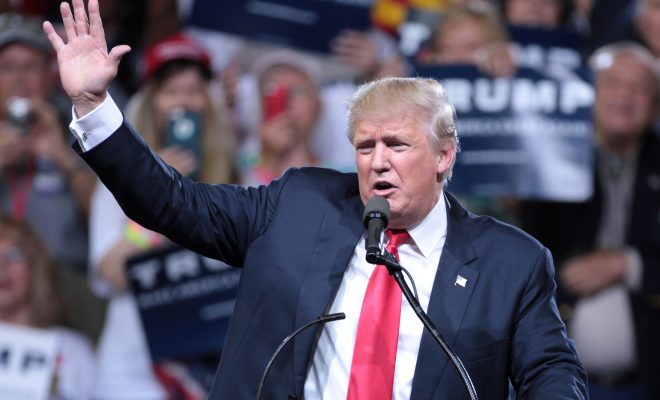 Image Courtesy of Gage Skidmore; License: (CC BY-SA 2.0)
Politics
Trump Makes Good on Mexican Border Wall Promise
By
|
President Donald Trump signed an executive order Wednesday that fulfilled, at least partially, his campaign promise of building a "beautiful wall" on the Mexican border. According to Trump's spokesman Sean Spicer, the order will direct the Department of Homeland Security to use existing funds and resources to begin work on the wall, perhaps as early as next month. Drafts of another executive order signal Trump will enact strict visa bans for immigrants from "terror prone" nations. He is also expected to temporarily bar refugees from Muslim-majority countries.
Those executive orders have yet to be signed, but they imply Trump will follow through with his promise to clamp down on immigration, whether from Latin America or the Middle East and Africa. Trump signed the executive action on the Mexican border wall at the DHS headquarters Wednesday afternoon. Any additional funding for the wall, which Trump has promised will ultimately come from Mexico's coffers, would need congressional approval.
Big day planned on NATIONAL SECURITY tomorrow. Among many other things, we will build the wall!

— Donald J. Trump (@realDonaldTrump) January 25, 2017
According to another executive order draft on immigration and refugees, Trump will authorize a freeze on refugees fleeing civil wars in Syria, Afghanistan, Iraq, and Somalia. Exceptions will be made for religious minorities who are escaping persecution. The order will also temporarily block visas for immigrants from Muslim-majority countries–Syria, Iraq, Iran, Libya, Somalia, Sudan, and Yemen–until stricter vetting procedures are in place.
"To think that Trump's first 100 days are going to be marked by this very shameful shutting of our doors to everybody who is seeking refuge in this country is very concerning," Marielena Hincapié, executive director of the National Immigration Law Center, told The New York Times. "Everything points to this being simply a backdoor Muslim ban." It is unclear if Trump will block Muslims from other Muslim-dense countries–Indonesia, Egypt, Saudi Arabia, and others–from coming to the U.S.
A draft of another executive order Trump is considering reviews bringing back CIA "black sites," all of which President Obama shuttered during his first week in office in 2009. But the draft is clear that the Trump Administration will not bring back water torture, a move he flirted with on the campaign trail. The draft states: "no person in the custody of the United States shall at any time be subjected to torture, or cruel, inhuman or degrading treatment or punishment, as described by U.S. or international law."