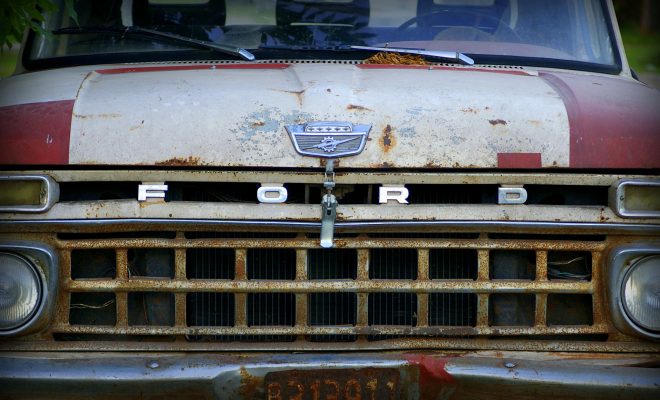 Image Courtesy of Alejandro Gomez; License: (CC BY 2.0)
Politics
Trump Takes Credit for Stopping a Ford Plant from Moving to Mexico
By
|
On Thursday night, in the midst of figuring out how to mend the country after a brutal few weeks, and selecting the leaders of the U.S. government's various departments, President-elect Donald Trump sent out the following tweet:
Just got a call from my friend Bill Ford, Chairman of Ford, who advised me that he will be keeping the Lincoln plant in Kentucky – no Mexico

— Donald J. Trump (@realDonaldTrump) November 18, 2016
He followed that with another tweet that read: "I worked hard with Bill Ford to keep the Lincoln plant in Kentucky. I owed it to the great State of Kentucky for their confidence in me!"
But there is one problem with Trump's claims: Ford, the second best-selling U.S. automaker, never planned on shutting its Louisville, Kentucky plant and shipping operations to Mexico. Trump, just a little over a week after being elected and months from being in office, is already taking credit for something he did not do.
Ford has in fact repeatedly said it has no plans to cut any U.S.-based plants, though it has announced plans to open up new ones in Mexico, and shift some small-car production there as well. The car company will invest $4 billion in plants in Mexico in the coming years, but not at the expense of U.S. plants. The Louisville plant, which employs 4,700 people, manufactures the Ford Escape and the Lincoln MKC SUV.
"So Ford is leaving. You see that, their small-car division leaving. Thousands of jobs leaving Michigan, leaving Ohio. They're all leaving," Trump said in September during the first presidential debate. Ford responded via Trump's favorite platform, Twitter:
Ford has more hourly employees and produces more vehicles in the U.S. than any other automaker. pic.twitter.com/k15cqknsvX

— Ford Motor Company (@Ford) September 27, 2016
On Friday, Spokeswoman Christin Baker said in a statement that Ford "confirmed with the President-elect that our small Lincoln utility vehicle made at the Louisville Assembly plant will stay in Kentucky." And while Ford did say it might suspend production at the Louisville plant for two weeks due to low demand, it has never shared plans to simply up and move to Mexico, as Trump's tweet claimed.
Taking credit when it is not due to him seems to be a pattern for Trump, especially concerning Ford. Last year, while campaigning on the promise of bringing back manufacturing jobs to the U.S., Trump took credit for a Ford plant that moved from Mexico to Ohio. Ford made that decision in 2011, when Trump was still firing people on "The Apprentice."