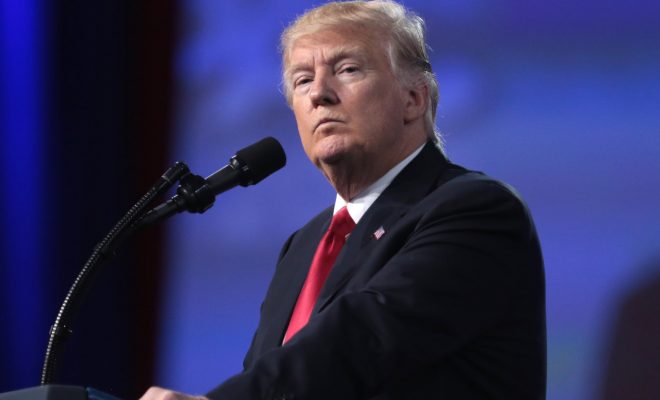 "Donald Trump" Courtesy of Gage Skidmore; License: (CC BY-SA 2.0)
Politics
Despite Rhetoric, Trump Hasn't Abandoned Any International Agreements in His First 100 Days
By
|
Despite spending his campaign extolling the devilish scourge of globalism, international blocs, pacts, agreements, clubs, and any other united, transnational body, President Donald Trump's actions in office thus far have done little to renege on any U.S. commitments with the wider world. Sure, Trump has hung up the phone on Australia's prime minister; he has issued threats to North Korea, Iran, China, and a number of other bad actors or fragile allies. Trump promised a number of things during the campaign when it comes to existing international agreements–rip, tear, shred, renegotiate, etc. But he has yet to act on any of those impulses.
Here is a look at two international accords and one trade deal Trump has, at one point or another, promised to withdraw from or drastically alter. Instead, Trump has largely maintained the status quo as we approach the end of his fist 100 days in office.
Paris Climate Agreement
Trump once pegged climate change as a hoax invented by the Chinese. At a campaign stop last May, he pledged to "cancel" the 2015 Paris Climate Agreement, which the U.S. signed with nearly 200 other countries to combat climate change. Trump has since softened his questioning of climate change's legitimacy and has largely ceased threatening to pull out of the agreement. And although EPA Chief Scott Pruitt favors withdrawing from the pact–Trump signed an executive order in March directing Pruitt to begin that process–he is reportedly questioning whether or not the political blowback of such a move would be worth it.
According to a recent New York Times report, Trump–a morally bankrupt man of few fixed beliefs in the eyes of critics, an open-mind in the eyes of his supporters–is split between two influencing camps within his administration. There is the Steve Bannon, anti-globalist school, and then there are those like Trump's son-in-law Jared Kushner who support the climate pact. Trump is expected to make a final decision on the U.S. role in the Paris agreement by the end of May.
Iran Deal
During his campaign, Trump called the nuclear deal with Iran "the worst deal ever negotiated." Engineered by the Obama Administration in 2015, the deal exchanged sanctions relief for a freeze on Iran's nuclear program. Critics said the deal merely delayed the inevitable; once Iran's economy was back on track, and once the 10-year deal expired, it would build up its nuclear arsenal. Supporters asked: "would you rather Iran start firing off nuclear bombs now?"
Trump, a fervent and vocal critic of the deal–which, along with the United States, was negotiated by China, Russia, France, Germany, and the U.K.–reprimanded Iran for a missile test in January. Secretary of State Rex Tillerson recently ordered a review to consider imposing additional sanctions on Iran–a move that could breach the nuclear agreement–just as Defense Secretary Jim Mattis said the deal "still stands," confirming Iran was complying with it.
NAFTA
The Iran deal may be the "worst deal ever negotiated," but in Trump's eyes, NAFTA, or the North American Free Trade Agreement, is the "worst trade deal in history." The 1994 trade deal between the United States, Canada, and Mexico has been the perfect straw man for the legion of Trump voters who had been disaffected and disproportionately affected by global trade (and of course by automation, but you can't exactly renegotiate a deal with machines).
Last week, Trump hinted that "some very big changes" were coming to the trade agreement. But on Monday, during a speech in Mexico, Chamber of Commerce executive Thomas Donohue soothed concerns that the administration would drastically alter the deal, or scrap it altogether. "I want to assure you that despite what you may see in the news, or hear in the news, there is a constructive process underway behind the scenes," he said.