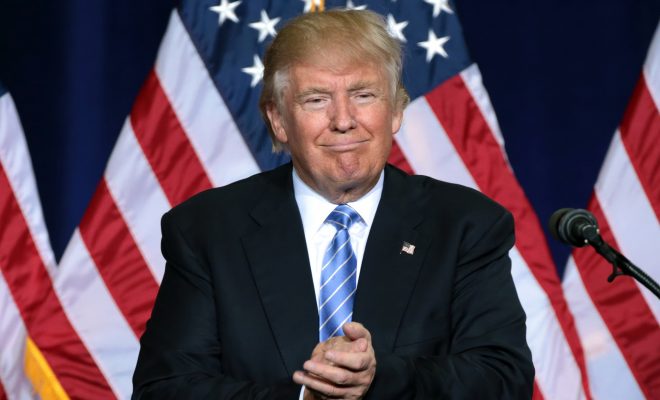 Image Courtesy of Gage Skidmore; License: (CC BY-SA 2.0)
Politics
Trump Adopts New Tone, Same Ideas, in Congressional Address
By
|
In his first address to a joint session of Congress on Tuesday night, President Donald Trump spoke for an hour about healing, unity, and, most uncharacteristically, America's current greatness. The speech was a departure from past addresses in tone and demeanor–there was no "American carnage" to be found–but its content hardly tread new ground. Trump attacked Obamacare, promised to reform the tax code, and floated other ideas–some that skewed closer to Republican orthodoxy, and others that were closer to the left's policy doctrine.
He began by denouncing bigotry and hatred, two things his opponents often accuse him of espousing: "Recent threats targeting Jewish community centers and vandalism of Jewish cemeteries, as well as last week's shooting in Kansas City," he said, "remind us that while we may be a nation divided on policies, we are a country that stands united in condemning hate and evil in all of its very ugly forms."
In contrast to his dire Inaugural Address, or his smattering of grim remarks throughout the presidential campaign, Trump pointedly spoke to all Americans, not just the slice of the electorate that supported him. "We are one people, with one destiny," he said. "The time for small thinking is over. The time for trivial fights is behind us. We just need the courage to share the dreams that fill our hearts." It was unclear if Trump's mention of "trivial fights" was referring to the skirmishes he incites–he called House Minority Leader Nancy Pelosi "incompetent" a few hours earlier–or is he was simply condemning his detractors.
Before addressing his ideas and governing vision, Trump indulged in his election victory, and the movement he ignited, which he called a "rebellion," and an "earthquake." His supporters, he said, "were all united by one very simple, but crucial demand, that America must put its own citizens first, because only then can we truly make America great again."
To do that, Trump said, evoking the vision that shaped his campaign promises, the military would be built-up, manufacturing would make a comeback, and infrastructure would be a top priority. Trump also discussed, at length, his plans for immigration. "My job is not to represent the world," he said. "My job is to represent the United States of America."
He said he is open to immigration reform, as long as it would "improve jobs and wages for Americans, to strengthen our nation's security, and to restore respect for our laws." He added: "If we are guided by the well-being of American citizens, then I believe Republicans and Democrats can work together to achieve an outcome that has eluded our country for decades."
Earlier in the day, Trump gave a speech to TV anchors at the White House, where he floated immigration ideas that contrasted his usual sentiments. In mostly improvised remarks, he said he is open to a path to legalization for immigrants who are in the U.S. illegally. He also posited the idea that children brought to the country illegally by their parents–so-called Dreamers–could attain citizenship.
But his speech to Congress made no mention of the potential changes in his thinking on immigration. Instead, he applauded the work immigration agents are doing to remove "gang members, drug dealers and criminals that threaten our communities and prey on our very innocent citizens." He also asked a pointed question to those in Congress who take a softer stance on immigration: "What would you say to the American family that loses their jobs, their income or their loved one, because America refused to uphold its laws and defend its borders?"
Toward the end of the address, Trump commemorated William "Ryan" Owens, the Navy SEAL who was killed during a raid in Yemen in January. Trump was criticized–by lawmakers and Owens's father–for approving the raid, and has since placed blame on "the generals" and on the Obama Administration. On Tuesday night, Carryn Owens, the fallen soldier's widow, sat in First Lady Melania Trump's box. To a raucous standing ovation, Trump looked at Owens and said: "Ryan's legacy is etched into eternity."