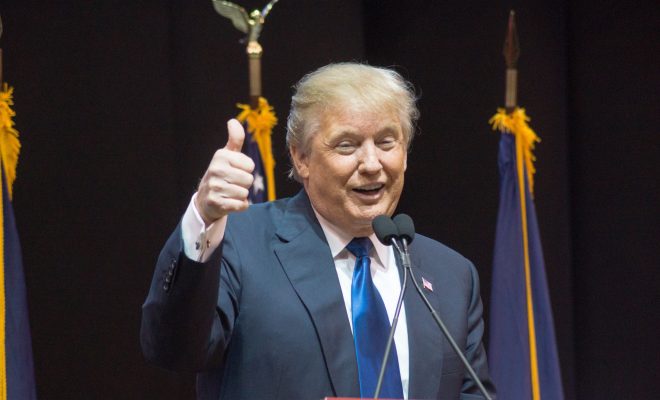 Image Courtesy of Marc Nozell; License: (CC BY 2.0)
Politics
How Credible are the Claims That Trump Has Deep Ties with Russia?
By
|
Harry Reid, the Senate Minority Leader and retiring Democratic Senator of Nevada, sent a letter to FBI Director James Comey calling on him and his team to release to the public the "explosive information about close ties and coordination between Donald Trump, his top advisors, and the Russian government" that Comey allegedly possesses. But does the FBI possess any "explosive information" regarding Trump's ties to Russia? And what about those recent claims by a former spy that Trump's allies maintain a backchannel to a Russian bank?
First, a bit of background:
Comey and the FBI find themselves at the center of an extraordinarily divisive presidential campaign that cannot end soon enough for all parties (and voters). It started with an investigation into Hillary Clinton's private email server, which concluded without an indictment. Last week, however, Comey's team stumbled upon some emails that were pertinent to the Clinton case while reviewing Anthony Weiner's sexting case. Comey sent a letter to Congress alerting them of the new development, which in turn sparked claims of Comey's anti-Clinton bias by Democrats and a new round of Clinton attacks by Republicans.
A story published Monday by the website Mother Jones featured a "former senior intelligence officer for a Western country who specialized in Russian counterintelligence" as a source. He said that "in recent months he provided the [FBI] with memos, based on his recent interactions with Russian sources, contending the Russian government has for years tried to co-opt and assist Trump."
The FBI has in fact investigated Trump's ties to any Kremlin entities, including Russian President Vladimir Putin, a leader who Trump has profusely praised. They also investigated, and continue to investigate, the hacks involving Democratic emails released by Wikileaks in recent weeks. FBI officials, speaking under the condition of anonymity, told The New York Times on Monday that "no clear link" has been discovered between Trump and Russia, and that the hacks are intent on undermining American democracy rather than electing Trump, as many Democrats have implied.
"It isn't about the election," a senior official told the Times. "It's about a threat to democracy." And then there are the accusations by the former spy who spoke with Mother Jones that Trump and his team maintains a back channel to Russia's Alfa Bank, which the Clinton campaign–which seesawed between attacking Comey for his renewed probe into her emails and remaining silent on the matter–called "the most direct link yet between Donald Trump and Moscow."
The FBI investigated the Trump-Alfa Bank connection, and found "there could be an innocuous explanation, like a marketing email or spam, for the computer contacts." Trump's Press Secretary Hope Hicks responded to the allegations regarding the server: "First of all, it's not a secret server. The email server, set up for marketing purposes and operated by a third-party, has not been used since 2010," she said. "The Trump Organization has no communication or relationship with this entity or any Russian entity."
Alfa Bank, the largest private commercial bank in Russia, responded to the claims as well. A spokesman for the bank said rumors that the bank is involved in a shadowy connection with Trump or his campaign is  "patently false." He said the activity between the two servers were "caused by a spam attack." He added: "Alfa Bank does not have and has never had any special or exclusive internet connection with Mr Trump or his entities."