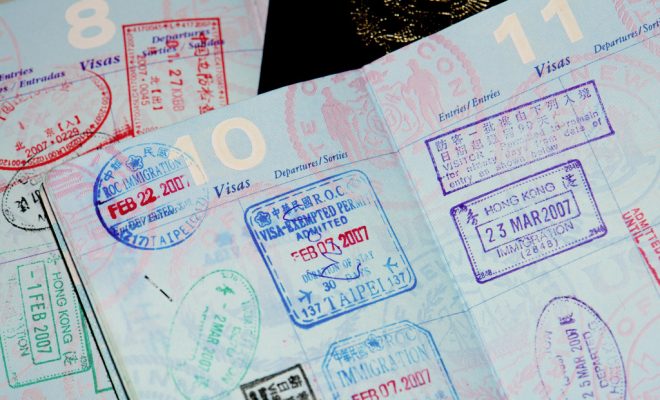 "Passports" courtesy of J Aaron Farr; license: (CC BY 2.0)
Politics
Trump Administration Tightens Vetting Process for Visa Applicants
By
|
The Trump Administration recently approved even harsher vetting processes for people applying for a visa to travel to the United States. The U.S. currently has one of the most complicated visa processes in the world, and many groups believe that even stricter rules will put off foreign students, scientists, and others from coming here.
The new rules would allow officials to question applicants about their social media accounts, email addresses, and phone numbers from the past five years. Applicants would also have to divulge their home addresses, employment, and travel history from the past 15 years, as well as all previous passport numbers. So people would need to keep all the passports they have owned throughout their lives to apply for a visa to America.
All visa applicants wouldn't face these new questions. It would be up to each consular official to determine whether additional questions are needed to "conduct more rigorous national security vetting," according to a State Department official. They would also be voluntary, as the questionnaire states, but not answering them could result in the visa being delayed or denied.
Trump admin's ridiculous new visa rules will hurt the economy. Total contribution of tourism in 2016: 8.1% of GDP https://t.co/jJQkgt5m5r

— Rachel Glickhouse (@Riogringa) June 2, 2017
The Office of Management and Budget approved the new questions last week. More than 50 academic groups representing college admission counselors and advisers criticized the new rules in a letter to the State Department. They wrote that the new rules could act as a deterrent for foreign students seeking to study in the U.S. and might also lead to confusion, uncertainty, and long delays in processing times.
It is also very ill-defined and vague in regard to who is affected by the new rules. One estimation said that the questions would apply to about 65,000 visa applicants every year. Earlier, the State Department said the new questionnaire would affect those "who have been determined to warrant additional scrutiny in connection with terrorism or other national security-related visa ineligibilities."
But it's likely that not everyone will remember every single place they traveled to in the past 15 years, or even every social media handle they are signed up for. Immigration advocates have said such detailed questions are likely to stop travelers who make honest mistakes from being granted visas. And since the questions are voluntary, and not answering could–or could not–mean that your visa is denied, it makes it an arbitrary process.
For now, the questionnaire has been emergency approved to be used for six months–the usual time for this type of vetting is three years. Considering the majority of the 200 comments submitted when the new rules were open for public comments were negative, this is likely to create more frustration and protests in the near future.