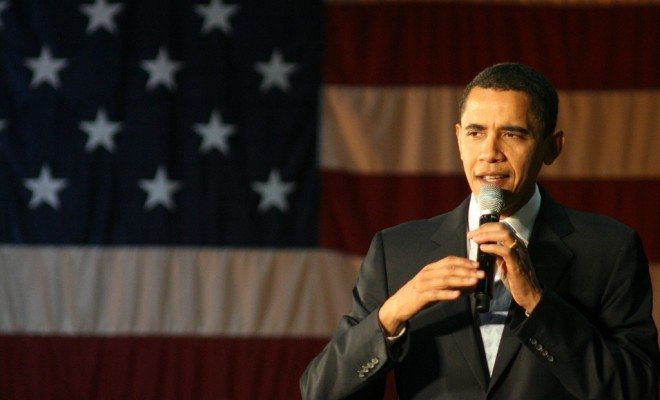 "obama" courtesy of [dcblog via Flickr]
Politics
Top 5 Moments of Obama's Last White House Correspondents' Dinner Speech
By
|
Last night, President Barack Obama's final White House Correspondents' dinner as sitting president was held at the Washington Hilton in D.C. Celebrities, reporters, and politicians all dressed up in their finest for a night of (mostly laughs), and Obama didn't disappoint. Check out five of the funniest moments from Obama's speech last night.
Obama vs. Donald Trump
It should come as a surprise to no one, but Obama went after the walking joke that is the Republican frontrunner Donald Trump. Obama pointed out that Trump hadn't attended the dinner, saying:
Well let me conclude tonight on a more serious note. I want to thank the Washington press corps. The free press is central to our democracy and … nah! I'm just kidding! You know I'm gonna talk about Trump! Come on!

And it is surprising: You've got a room full of reporters, celebrities, cameras — and he says no.

Is this dinner too tacky for The Donald? What could he possibly be doing instead? Is he at home, eating a Trump steak, tweeting out insults to Angela Merkel? What's he doing?
And he ended his Trump tirade with this zinger:
And there is one area where Donald's experience could be invaluable and that's closing Guantanamo because Trump knows a thing or two about running waterfront properties into the ground.
While the Trump-talk certainly wasn't a surprise, it was a lot of fun.

Sanders & Clinton Get Jabs Too
While Obama was harshest on Trump, he also made some comments about the two Democratic candidates still in the race. About billionaire-basher Bernie Sanders, Obama said:
For example, we've got the bright new face of the Democratic Party here tonight, Mr. Bernie Sanders. Bernie, you look like a million bucks. Or, to put it in terms you'll understand, you look like 37,000 donations of $27 each.
Obama also joked about Hillary's slogan, pretending it was "Trudge up a Hill" as opposed to Bernie's more youthful "Feel the Bern," and her seeming inability to connect with younger voters:
You've got to admit it though, Hillary trying to appeal to young voters is a little bit like your relative who just signed up for Facebook. 'Dear America, did you get my poke. Is it appearing on your wall? I'm not sure I'm using this right. Love, Aunt Hillary.'
And a Little Fun at His Own Expense
Obama didn't shy away from making fun of himself a bit, particularly when it comes to his meetings with world leaders. He made a reference to Prince George greeting the President in his bathrobe:
Even some foreign leaders, they've been looking ahead, anticipating my departure. Last week, Prince George showed up to our meeting in his bathrobe. That was a slap in the face. A clear breach of protocol.
Which (side note) led to this adorable picture:
Toddler prince meets President; bathrobe steals the show https://t.co/ofE5Q2cYxP #PrinceGeorge #bathrobe pic.twitter.com/OxnMZzuwZ2

— Acculturated (@Acculturated) April 26, 2016
Obama also commented on his recent meeting with his younger and very handsome Canadian counterpart, Justin Trudeau:
In fact somebody recently said to me, 'Mr. President, you are so yesterday. Justin Trudeau has completely replaced you. He is so handsome and he's so charming. He's the future.' And I said 'Justin, just give it a rest.' I resented that.
An Actual, Physical Mic Drop
As a fitting farewell to his last White House Correspondents' Dinner, Obama left the stage with the comment "Obama, out" and a literal dropping of the mic.
WATCH: Pres. Obama drops the mic at end of #WHCD remarks: "Obama out" https://t.co/cpmMPwSnpo

— ABC News (@ABC) May 1, 2016
John Boehner Video
Finally, I'm just going to let this fantastic video about what Obama will do when he's no longer in office (also starring Joe Biden, Michelle Obama, and John Boehner) speak for itself: