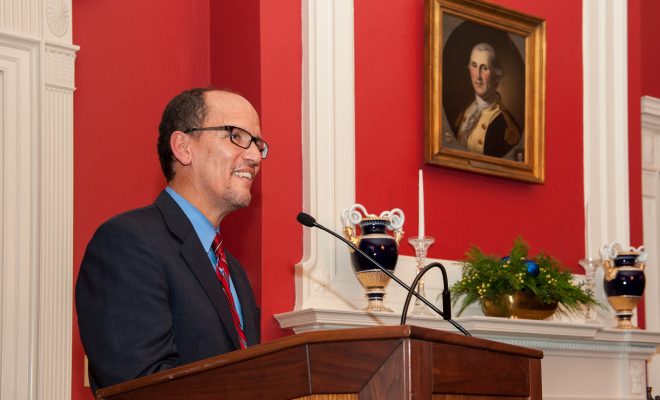 Image courtesy of Maryland GovPics; License: (CC BY 2.0)
Politics
Tom Perez Elected DNC Chair Over Keith Ellison
By
|
Tom Perez, the former Secretary of Labor, was elected the Democratic National Committee (DNC) chairman today, beating Representative Keith Ellison in a second round of run off voting. In that second round, Perez garnered 235 votes to Ellison's 200 to win.
Perez is the first Hispanic chair of the DNC, and was a speculated pick for Hillary Clinton's Vice Presidential nominee. In addition to Perez and Ellison, contenders included Jehmu Greene (a Democratic strategist from Texas), Jamie Harrison (chair of the South Carolina Democratic Party), Sally Boynton Brown (president of the Association of State Democratic Party Executive Directors and Idaho Democratic Party Executive Director), Peter Peckarsky (a Wisconsin lawyer), and Samuel Ronan (a 2016 candidate for the Ohio State House of Representatives). Pete Buttigieg, the mayor of South Bend, Indiana, dropped out before the voting began.
After Perez won, he appointed Ellison as his deputy during his acceptance speech, saying: "I would like to begin by making a motion, it is a motion that I have discussed with a good friend, and his name is Keith Ellison." While the role is largely symbolic, it represented a nod to the close race between the two leaders.
Some saw the competition between Perez and Ellison as symbolic of the party's internal struggle after losing the 2016 general election. The contentious primary battle between Clinton and Senator Bernie Sanders left a sour taste in many Democrats' mouths. In this DNC race, Perez represented the establishment. In contrast, Ellison represented the more left-wing side inspired by Sanders.
But, it's important to note that Perez and Ellison were largely complimentary of each other in most public appearances, and stayed away from anything petty. And they made sure to note that they were friends–including when they got together for dinner 10 days before the vote.
We're friends. It's ok. https://t.co/xdllbgFN9S

— Rep. Keith Ellison (@keithellison) February 16, 2017
Perez now has a hefty task before him–especially given the criticism and resignation of former DNC Chair Debbie Wasserman Schultz during the 2016 primaries. As protests and activism against President Donald Trump's rule continue to grow, Perez will be in charge of, at least in part, leading the Democratic Party forward.