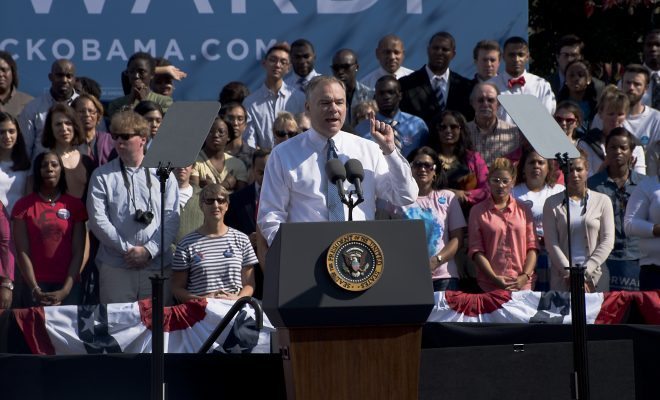 "Tim Kaine has dreams" Courtesy of [tvnewsbadge via Flickr]  
Politics
Where Does Tim Kaine Stand on the Issues?
By
|
Hillary Clinton announced her running mate on Friday, going with a safe candidate who is seasoned with experience in almost every level of government and thankfully lacks a scandalous background. Despite the fact that Tim Kaine is a white, Catholic male and an insider to politics, he can do a few things that the average politician cannot: he officiates weddings, plays the harmonica, and speaks fluent Spanish.
Kaine started his political career as a city councilman in Richmond, Virginia, where he later served as mayor. He was elected Governor of Virginia in 2006, and became a senator in 2012. He also served as chairman of the Democratic National Convention during the first years of the Obama administration. He currently serves on the Senate Foreign Relations Committee and Armed Services Committee.
Kaine has been in politics for 22 years and knows a thing or two about elections, except for one thing: losing. Kaine has never lost an election during his tenure in government. Another fun fact about the next possible vice president? He is the first senator to give an entire speech on the Senate floor in a language other than English (he recited a speech entirely in Spanish in 2013).
Critics have called Kaine boring, but maybe that's what Clinton needs to get her the presidency in November. On the big issues dominating this election, where does he stand?
Gun Control
Kaine has a personal connection with the push for stricter gun laws— he was the governor of Virginia when the Virginia Tech shooting happened, and at the time, it was the most deadly mass shooting in history. He described it as the worst day of his life:
That was the worst day of my life, and it will always be the worst day of my life — comforting the families of the victims, talking to the first responders who went into a classroom where bodies littered the floor and who heard in the pockets of deceased students and professors cell phones ringing as parents who had seen it on the news were calling their kids, just knowing they were at Virginia Tech to ask them if they were all right — calls that would never be answered.
Although a proponent of the second amendment and a gun owner himself, Kaine said he "supports common sense legislation," and would like to see expanded background checks, restrictions on assault-style weapons, and expansion for mental health services, according to a statement on his website.
"Hillary and I will not rest…until we get universal background checks and close loopholes." —@TimKaine on preventing gun violence

— Hillary Clinton (@HillaryClinton) July 23, 2016
Women's Reproductive Rights
Kaine is a pretty fervent Catholic, but when it comes to abortion rights, he believes it's a personal matter, not a political one. He has an impressive 100 percent pro-choice voting record on abortion issues in the Senate, which garners respect from groups like Planned Parenthood and National Association for the Repeal of Abortion Laws.
Although Kaine does not personally agree with abortions, he said, "I deeply believe, and not just as a matter of politics, but even as a matter of morality, that matters about reproduction and intimacy and relationships and contraception are in the personal realm. They're moral decisions for individuals to make for themselves. And the last thing we need is government intruding into those personal decisions."
In August 2015 he voted against defunding Planned Parenthood, saying that for many women, "Planned Parenthood health centers are their only source of high quality health care."
Planned Parenthood provides many critical, preventative services. Here's just some #StandWithPP pic.twitter.com/TmPRd7GJ1X

— Senator Tim Kaine (@timkaine) December 2, 2015
Education 
Kaine was critical of No Child Left Behind from the get-go. When he was governor of Virginia in 2006, he said the education act was "wreaking havoc on local school districts." He has scathed NCLB for putting so much pressure and focus on standardized testing.
The new act that replaced NCLB in December 2015, Every Child Succeeds, has parts that Kaine wrote that focused on promoting career and technical education.
Authorization of Military Force
Kaine is the father of a Marine, so creating policy that recognizes that soldiers put their lives at risk in order to protect national security is important to him. That's why he has pushed for the Obama administration to get re-authorization from Congress in order to fight terrorist groups like ISIS. In September 2014, Kaine called on President Obama to seek authorization on the Senate floor:
During a time of war, we ask our troops to give their best even to the point of sacrificing their own lives. When compared against that, how much of a sacrifice is it for a President to engage in a possibly contentious debate with Congress about whether military action is a good idea? How much of a sacrifice is it for a member of Congress to debate and vote about whether military action is a good idea? While Congressional members face the political costs of debate on military action, our service members bear the human costs of those decisions. And if we choose to avoid debate, avoid accountability, avoid a hard decision how can we demand that our military willingly sacrifice their very lives?