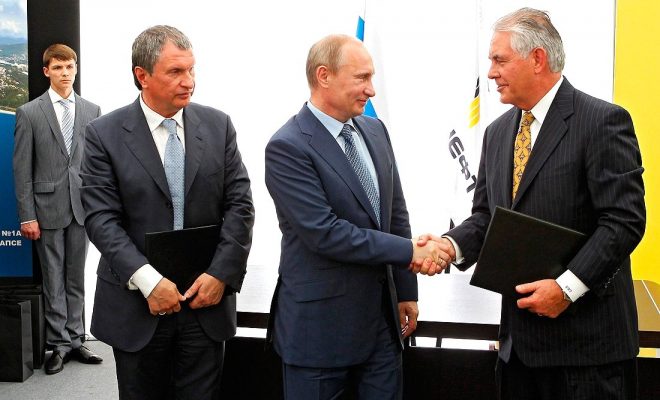 Image Courtesy of Пресс-служба Президента России; License: (CC BY 4.0)
Politics
The Trump Cabinet: Who is Rex Tillerson?
By
|
Though he has toyed with a number of candidates with various levels of government experience in choosing the next secretary of state, in the end President-elect Donald Trump selected a man with a résumé more in line with his own. His pick is Rex Tillerson, the CEO of petroleum giant Exxon Mobil. Tillerson, 64, has no experience in public service–he is the model "outsider" that Trump has sought out in assembling his cabinet–and has spent his entire four-decade career with Exxon.
As the nation's top diplomat, Tillerson will have to reconcile the deep business ties he has formed with Russia. Under Tillerson's leadership, Exxon agreed to billions of dollars worth of contracts with Rosneft, a Kremlin-backed oil outfit, to drill in Siberia and the Black Sea. Those deals were frozen, however, when the U.S. slapped heavy sanctions on Russia, after it intervened in Ukraine and annexed Crimea in 2014.
Last weekend, as Tillerson emerged as the leading candidate, a number of Republican senators expressed alarm over his extensive business dealings with Russia, whose hacks into the email servers of U.S. political operatives were done with the intention of aiding Trump, the CIA said. On Saturday, Senator John McCain (R-AZ), said Tillerson's relationship to Russian President Vladimir Putin is "a matter of concern to me." He added: "Vladimir Putin is a thug, bully and a murderer, and anybody else who describes him as anything else is lying."
McCain wasn't the only senator to question Tillerson's relationship to Russia, and it seems the business magnate is in for a tense Senate confirmation hearing. On Sunday, Senator Marco Rubio (R-FL), tweeted: "Being a 'friend of Vladimir' is not an attribute I am hoping for from a #SecretaryOfState." Putin awarded Tillerson with the Order of Friendship in 2013. While that is not necessarily a rare honor, or even one that indicates an unusual personal relationship with Russia or Putin, it's Tillerson's business dealings, specifically the ones that hinge on U.S. sanctions being lifted, that most trouble his skeptics.
But for Trump, those same dealings seem to have attracted him to Tillerson. "He's much more than a business executive; he's a world-class player," Trump said in an interview with Fox News on Sunday. "He knows many of the players, and he knows them well. He does massive deals in Russia — for the company, not for himself." Tweeting on Tuesday morning, Trump doubled down on his support of Tillerson's massive network of business deals, which span six continents and 50 countries, including the semiautonomous region of Kurdistan and Qatar:
The thing I like best about Rex Tillerson is that he has vast experience at dealing successfully with all types of foreign governments.

— Donald J. Trump (@realDonaldTrump) December 13, 2016
Tillerson, a native of Wichita Falls, Texas, has been at the fore of Exxon's shift from being a company that denied climate change to one that cleaned up its practices and even advocated for a carbon tax. He also helped the company reduce its emissions. And in 2012, Tillerson played a key role in allowing openly gay children to join the Boy Scouts, an organization which he was a member of and remains actively engaged in.
Though he beat out Mitt Romney, former New York mayor Rudolph Giuliani, and Senator Bob Corker (R-TN) for the position, Tillerson will likely face tough questioning from the Senate, and will have trouble getting confirmed if three or more Republicans vote to block him. Aside from Rubio and McCain, Senator Lindsey Graham (R-SC) also expressed concern about Trump's appointee: "I expect the US-Russian relationship to be front and center in his confirmation process," he said, adding that his Order of Friendship from Putin is "unnerving."