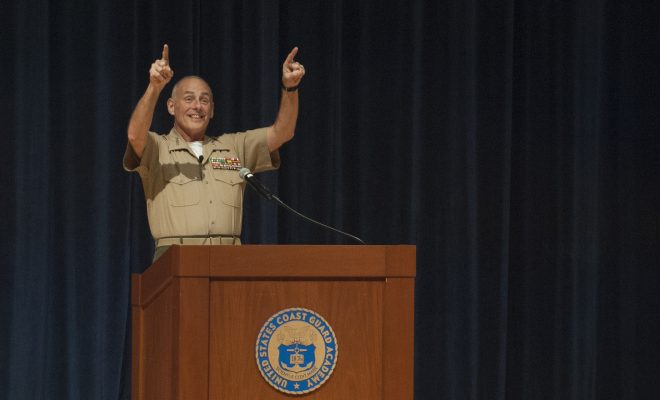 Image Courtesy of US Coast Guard Academy; License: public domain
Politics
The Trump Cabinet: Who is John Kelly?
By
|
John Kelly, a retired Marine General and 45-year military veteran, will head the Department of Homeland Security under President-elect Trump, CBS News reported on Wednesday. An official announcement is expected in the next few days. Kelly, 66, most recently served in the Obama Administration as the head of the U.S. Southern Command, a unit that focuses on operations in Latin America and the Caribbean.
Kelly did not endorse Trump during the campaign. But he is a widely respected veteran with a deep resume, including experience with many countries the U.S. has had conflicts with over the past four decades, including Iraq and Afghanistan. He has also served as the special assistant to the North Atlantic Treaty Organization's supreme allied commander for Europe, and served as an aide to former defense secretaries Leon Panetta and Robert Gates.
Kelly, known for his blunt demeanor, called domestic politics a "cesspool" in an interview with Foreign Policy magazine last summer. Though he said he would be willing to serve either Trump or Hillary Clinton, he said neither was "serious yet about the issues," and expressed his dislike of campaign rhetoric. Kelly is the third general chosen for Trump's cabinet, following Michael Flynn as national security advisor and James Mattis as defense secretary. A fourth general, David Petraeus, is a candidate for the secretary of state position.
As the head of DHS, a body that was enacted to combat terrorism in the wake of the 9/11 attacks, Kelly will be charged with carrying out Trump's vision in regard to illegal immigration. Like Trump, Kelly has said that the U.S.-Mexico border is porous, and is a vulnerable channel for drugs and weapons to pass through. Kelly has not supported Trump's hardline stance on Muslims, however, saying U.S. troops "respect and even fight for the right of your neighbor to venerate any God he or she damn well pleases."
He also has a fierce respect for the military, and has personal experience with the sacrifices service members make: Kelly's oldest son Robert was killed while fighting the Taliban in Afghanistan in 2010. Days after his son's death, Kelly delivered an impassioned speech in St. Louis. "Their struggle is your struggle," he said, referring to U.S. soldiers. "If anyone thinks you can somehow thank them for their service, and not support the cause for which they fight—our country—these people are lying to themselves."