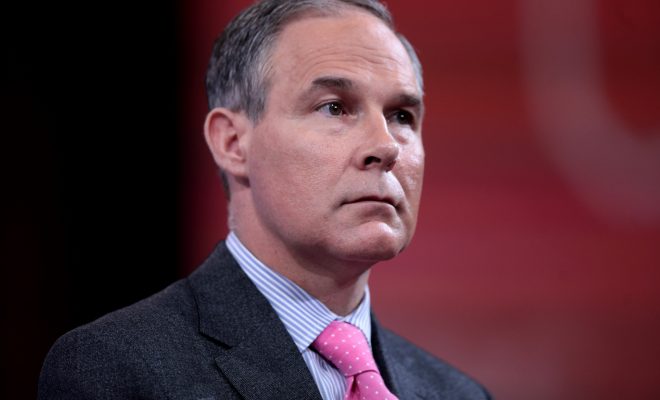 "Scott Pruitt" Courtesy of Gage Skidmore; License: (CC BY-SA 2.0)
Politics
The Trump Cabinet: Who is Scott Pruitt?
By
|
President-elect Donald Trump took a significant step in fulfilling his promise to scale back the Environmental Protection Agency on Thursday, announcing Oklahoma Attorney General Scott Pruitt as the agency's next leader. Pruitt, 48, has spent years waging legal battles against the agency he is now set to steer. In his six years as attorney general, Pruitt has been a consistent and vociferous critic of government overreach; President Obama's environmental regulations have frequently been targets.
"For too long, the Environmental Protection Agency has spent taxpayer dollars on an out-of-control anti-energy agenda that has destroyed millions of jobs, while also undermining our incredible farmers and many other businesses and industries at every turn," said a statement from Trump's camp, adding that Pruitt will "reverse this trend and restore the EPA's essential mission of keeping our air and our water clean and safe."
Pruitt, who has voiced his disdain for government overreach in editorials and in his work as attorney general, said he will run the agency in "protection of the environment and freedom for American businesses." Working as the attorney general of Oklahoma, one of the country's leading producers of oil and natural gas, Pruitt partnered with energy companies to fight Obama's environmental regulations on things like greenhouse gas emissions and water pollution.
"There's a mentality emanating from Washington today that says, 'We know best,'" Pruitt said during his 2010 election campaign for attorney general. "It's a one-size-fits-all strategy, a command-and-control kind of approach, and we've got to make sure we know how to respond to that." He also has a cozy relationship with wealthy energy industry players: the CEO of Continental Energy was the co-chairmen of Pruitt's 2013 re-election effort. 
Perhaps the most maligned target of Pruitt's crusade against federal overreach is Obama's Clean Power Plan, which imposed caps on emissions at power plants. Writing in the National Review on Obama's key energy achievement in May, Pruitt said: "The checks and balances built into our system of government were simply ignored as inconvenient impediments to the president's agenda," referring to Obama's executive action on the bill, which circumvented Congress. Oklahoma and 28 other states filed an anti-regulation suit against the act. The suit is pending in the U.S. Court of Appeals for the D.C. Circuit.
A Kentucky native, Pruitt went to the University of Tulsa law school, started a private practice upon graduating in 1993, and five years later served in the Oklahoma State Senate, before running a successful campaign for attorney general in 2010. An avid baseball fan, Pruitt co-owned and managed the Oklahoma City Redhawks, a minor league baseball team, from 2003 to 2010.
Environmental groups and some lawmakers were unhappy with Trump's latest cabinet appointment. "Scott Pruitt has a record of attacking the environmental protections that EPA is charged with enforcing. He has built his political career by trying to undermine EPA's mission of environmental protection," said Fred Krupp, president of the Environmental Defense Fund. Sen. Bernie Sanders (I-VT) called Pruitt a "sad and dangerous" choice. "I will vigorously oppose this nomination," he added.