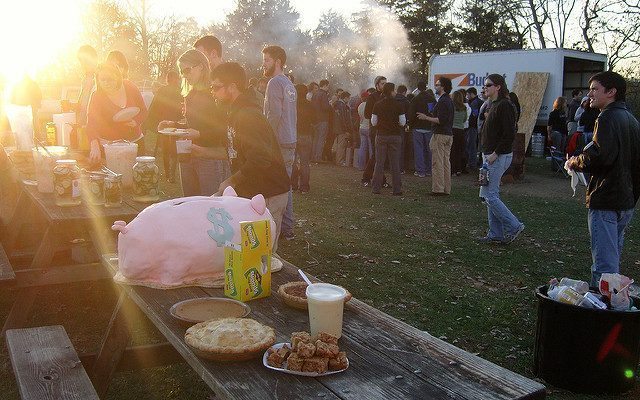 Image Courtesy of [Cristina Bejarano via Flickr]
Politics
Tennessee Lawmaker Gives Away Guns at Fundraiser
By
|
In the wake of the Orlando shooting, the debate over guns and gun control is now front and center in the political sphere. Earlier this week, Senate Democrats filibustered for almost 15 hours in order to pressure the Senate into talking about gun control. Social media has also been abuzz with arguments on both sides of the debate over gun control.
While all of these stories have been in the news, some specific decisions by lawmakers also drew national attention. Andy Holt, Tennessee state representative for the 76th district, has received criticism for his plan to give away not one, but two AR-15 assault riffles at a fundraiser later this month.
Holt announced this gift on Facebook last Friday, two days before the death of 49 people and injury of dozens more in the Orlando club. After the announcement, the Republican representative was criticized for his decision to raffle off two of these guns because of their similarity to one of the guns found on Omar Mateen, the Orlando shooter.
As a result Holt posted several Facebook posts defending his giveaways. Holt told the Tennessean, "We should not focus on the gun itself. We should focus on the depravity of the heart of the person who's pulling the trigger."
Needless to say, several members of the community were outraged by Holt's giveaway following the horrific shooting.
Wonder if Andy Holt has thought out liability? Or morality, or decency? likely not. https://t.co/JfS8LYy3jE

— p-daddle (@payalayap) June 14, 2016
TN State Rep. Andy Holt is an insensitive, uncompassionate, and heartless man. #ShametoTN https://t.co/hkTXrjkPNB

— Jeremy Jordan (@j_mich23) June 14, 2016
Tenn. State Rep. Andy Holt is a disgrace to our state and tip the religion he professes to believe in. Boo. https://t.co/xkGPftBn06

— Jennifer W. Spirko (@jenspirko) June 14, 2016
In response to his decision, Holt received death threats, although there is confusion over whether or not the threats were real. Following the threats, Holt blamed the media for the negativity surrounding his event:
So, thanks to the brilliant media for their lies that have resulted in death threats to my family and staffer. Not that we are afraid seeing as how we've got our shotgun rifles, 4-wheel drive, and know how to survive. But, it is sad. In fact, it's disgusting.
In addition to his other Facebook posts, Holt responded to his critics with some harsh words:
I'm sick and tired of the media and liberal politicians attacking our right to keep and bear arms. I'll do everything I can to ensure the 2nd Amendment is protected and people are equipped to exercise their innate right to self-defense. SHARE if you're standing with me! I wonder if I were giving away airplanes if the headlines would read… "Evil Andy Holt giving away same model of airplane used in 9/11 terror attack for law abiding citizens to use…"
It comes as no surprise that Holt's decision to raffle off guns is so controversial, given the heavy media coverage surrounding gun violence in the last week. As tragedies like Orlando continue to happen and gun death counts continue to rise, debates over how accessible guns should be will only become more prevalent.
We, as a country, need to decide if 93 gun deaths in 72 hours is a statistic we can live with, in the name of the Second Amendment. Or, maybe, we will work to shape gun policy and stop letting Representatives like Holt control the narrative on what our right to bear arms should look like at the expense of thousands of lives a year.