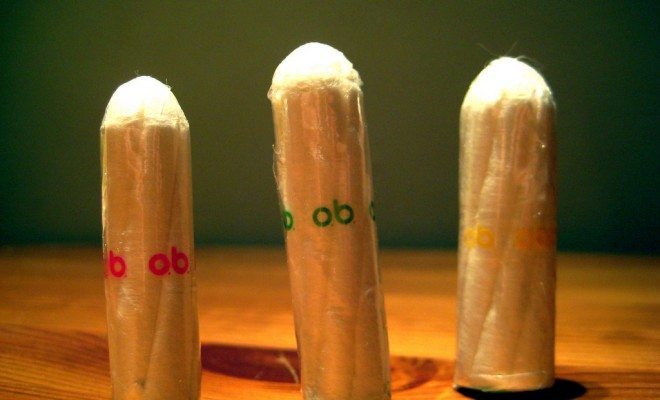 Image courtesy of [Keira Morgan via Flickr]
Politics
Should States Lower the Tampon Tax?
By
|
This week the debate over the tampon tax has made its way to my favorite state–that's right folks, we're back to talking about Utah again! The discussion about the feminine tax has recently come into the national spotlight as several states (including Maryland, Massachusetts, Pennsylvania, Minnesota, and New Jersey) have gotten rid of taxes on feminine hygiene products altogether. This is a step in the right direction as far as stopping taxes on necessary items goes.
Let's start with a little background on taxes and necessities. Individual states get to decide whether or not they want to levy a sales tax on final sale goods and, for the most part, they usually tax around five to nine percent on most of these goods. A few states–Delaware, Montana, Oregon, and New Hampshire, to be exact–don't have a sales tax, but instead opt for changes in income, excise, and tourist taxes. Here's a handy map from Tax Foundation displaying sales taxes nationwide from mid-2015 so you can see where your state falls as far as tax rates go.
In general, in states where there is a sales tax, items that are deemed to be necessities are exempt from being taxed. This includes goods like foods and medicines, which people need on a daily basis to survive. Even if these goods are still taxed in a state, it is usually at a lower rate than the overall sales tax. For some reason, feminine hygiene products have never been included on this list, but instead are taxed as "non-necessity" or "luxury" items; although, some states do have exemptions for things like pregnancy tests, which are categorized as medical items. 
So, if it's up to the state's discretion to decide which goods are and are not considered tax exempt for being "necessary," why hasn't this tampon and pad controversy come up before now? President Barack Obama mentioned in an interview with Youtuber Ingrid Nilsen that he suspects "it's because men were making the laws when those taxes were passed."
So, several states have recently been working to get rid of the tax on tampons, Utah being the most recent. Democratic Senator Susan Duckworth is introducing a bill to stop the sales tax on tampons in front of the Utah House tax panel next Wednesday. She has even made the bill broad, including incontinence products and children's diapers as necessities that she believes should not be taxed as luxury items in the state of Utah.
The main problem with Senator Duckworth's bill? She's pitching it to a committee of entirely men, who may have trouble sympathizing with the whole "periods" thing. The senator is concerned that the bill won't get out of committee, but has promised to stay committed to the cause no matter what the results this week are. Opponents of the proposal have said that, although the average woman will save over $30 dollars a year on tampon taxes alone, it could lose the state around $1 million dollars in tax revenue a year. While, yes, that is quite a hit to tax revenue, lowering the tax burden on poor women who quite literally have to buy feminine products is an important option to consider. In the words of Stephanie Pitcher, a member of the Utah Women's Coalition, "having a period is not a choice for women."
Outraged women took to Twitter late last year to protest the labeling of tampons as luxury items, making fun of just how ridiculous some of the proponents of keeping the #tampontax on these #luxuryitems sound.
Pure indulgence!! Living the life of luxury with my selection of sanitary products!! 😍😍#tampontax #TamponsForAll pic.twitter.com/3edAveFvX4

— Sara P (@xxsarajpxx) October 27, 2015
Just had to decide whether to stick the silver plated or diamond encrusted tampon up my vagina. #luxury

— Ann Scantlebury (@scanters) October 28, 2015
We all deserve a bit of luxury #tampontax pic.twitter.com/4mM9NysaNr

— Mrs Sarah Nic (@sp1305) October 28, 2015
While all these tweets are hilarious and get the main message (a desire for the end of sales taxes on tampons) across, it's important for everyone in this battle to keep in mind that tampons are not taxed more than regular goods. People are upset because tampons are taxed at the same rate as every other good and not given an exemption or tax reduction for being necessities for most women.
Whenever it comes to cutting taxes, there's a hard decision to make–I get that. All I'm saying is, if we don't tax things like babies' bibs and adult diapers, there's at least a discussion to be had about cutting some women a tax break where they need it. I'll leave you with this spot-on recommendation for what you should get that special woman in your life this coming Valentine's Day because, remember, tampons aren't a necessity, they're a luxury.