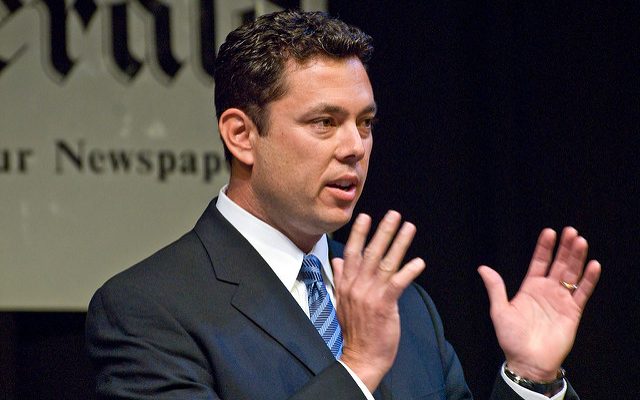 "Jason Chaffetz, (R)" Courtesy of Don LaVange: License (CC BY-SA 2.0)
Politics
Jason Chaffetz Flooded by Boos at Town Hall Meeting
By
|
It's important to keep in mind that someone is always having a worse day than you. Yesterday, that someone was Rep. Jason Chaffetz (R-UT). Chaffetz, who is also the chairman of the House Oversight & Government Reform Committee, was flooded by a chorus of boos and chants at a town hall he hosted in his district last night.
WATCH: Jason Chaffetz being greeted with "Do Your Job!" chants at town hall. Per CNN, he left the town hall an hour early @jasoninthehouse pic.twitter.com/8uw7cbwjcW

— Yashar (@yashar) February 10, 2017
Chaffetz's experience at the town hall was probably jarring for him for a whole multitude of reasons, but mostly because his day seemed to be going pretty well up until that point. Yesterday afternoon, Chaffetz gained bi-partisan praise for condemning Kellyanne Conway for promoting Ivanka Trump's Nordstrom fashion line in an interview on "Fox & Friends." Conway seemingly violated an executive branch regulation that prohibits employees from using their position "for their own private gain, for the private gain of friends . . . or persons with whom they are affiliated in a non-government capacity."
Speaking to reporters on the Hill, Chaffetz said Conway's comments were "clearly over the line, wrong, wrong, wrong, and unacceptable." Later, Chaffetz tweeted a letter he, along with Democratic Rep. Elijah Cummings, sent to the White House and the Office of Government Ethics, calling for recommendations for disciplinary action against Conway.
What she did was wrong, wrong, wrong. Here is our bi-partisan letter to the White House and OGE. #Donteverdothis https://t.co/zqeYhcttMB

— Jason Chaffetz (@jasoninthehouse) February 9, 2017
So, Chaffetz was probably feeling pretty good about himself after all that. Of course, all good things must come to an end. After a visit to the Utah State Senate, Chaffetz made his way over to his town hall meeting at Brighton High School, which, according to an event Facebook page, was not advertised by Chaffetz and changed locations multiple times because of large interest. While Chaffetz did not officially promote the event, multiple left-leaning groups like the Wasatch Socialist Party set up event pages that led to an outpouring of protestors and attendees, according to Utah's KUTV news reporter Chris Jones.
The auditorium, which seats 1,100, was filled to capacity while about 1,500 people stood outside the school, chanting and holding up signs.
Several thousand people outside of Brighton HS. Who couldn't get into @jasoninthehouse town hall. #utpol pic.twitter.com/gtARJu9mSf

— Chris Jones (@jonesnews) February 10, 2017
Auditorium for Cong Chaffetz Town hall packed. Police say 1000 outside. Now chanting, "You work for us!" @UtahIndivisible @IndivisibleTeam pic.twitter.com/R9iDakiWrZ

— Kyung Lah (@KyungLahCNN) February 10, 2017
This was all before the actual event started. During the event, Chaffetz was grilled by multiple attendees over a wide range of subjects, from Bears Ears National Monument, to public lands, to the Trump Administration, to Betsy DeVos, to immigration.
According to The Salt Lake Tribune, most of Chaffetz's answers were drowned out by boos and chants like "Vote him out!" and "Do your job!" At one point, a frustrated Chaffetz said "If you want me to answer the question, give me more than five seconds to do it."
But, nevertheless, Chaffetz's frustrated constituents persisted, with attendee after attendee hitting their representative with tough questions. One notable grilling came from a grade-school girl:
Utah Congressman Chaffetz gets totally owned by 10 year old girl's sick burn about science, refuses to answer her question & crowd goes wild pic.twitter.com/FxKUM2TklY

— Aaron Stewart-Ahn (@somebadideas) February 10, 2017
And another came from an ex-teacher:
At rowdy town hall, ex-teacher asks Chaffetz — chair of House oversight — "what's your line in the sand" for Trump? pic.twitter.com/8U7IkpZtsS

— Dan Diamond (@ddiamond) February 10, 2017
And another came from a cancer survivor who shared her story about the help she received from Planned Parenthood:
Cancer survivor — who relies on Planned Parenthood for care — asks Chaffetz: "Why are you trying to take [it] away?" pic.twitter.com/yexjMZ7wz6

— Dan Diamond (@ddiamond) February 10, 2017
And another–well, you get the idea.
According to The Salt Lake Tribune, the town hall lasted 75 minutes, which, according to multiple reports, was 40 minutes shorter than the event was supposed to be. Over the past couple of years, Chaffetz has been no stranger to public criticism. As Oversight Committee chairman, Chaffetz has received flack for relentlessly harping on Hillary Clinton's connections with the attack on the U.S. embassy in Benghazi. He was also widely derided for taking to his Instagram to post a picture with a caption that many people saw as petty and unclassy:
He is also known to have a dim understanding of how charts work:
Chaffetz was also widely criticized this past election for his flip-flop on President Donald Trump. After the Access Hollywood video was released, Chaffetz told Utah's Fox 13 News that he couldn't vote for Trump and look his daughter in the eye. Nineteen days later, presumably after looking his daughter in the eye, Chaffetz went on to say he would be voting for Trump, but would not be endorsing him:
I will not defend or endorse @realDonaldTrump, but I am voting for him. HRC is that bad. HRC is bad for the USA.

— Jason Chaffetz (@jasoninthehouse) October 27, 2016
Chaffetz has yet to comment on what transpired last night.