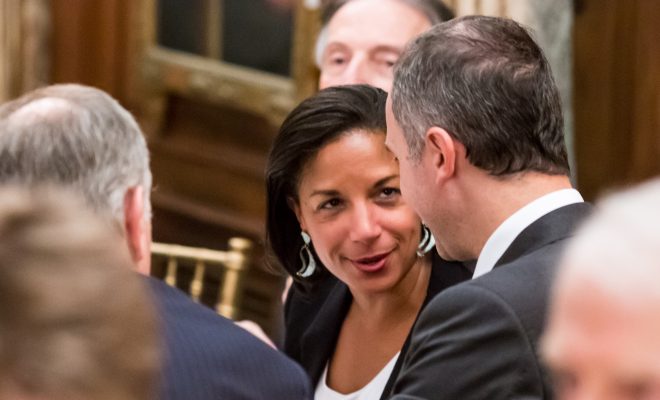 Image Courtesy of Italy in US; License: (CC BY-ND 2.0)
Politics
What You Need to Know About Susan Rice's "Unmasking" of Trump Associates
By
|
Earlier this week, reports came in that Susan Rice, the national security adviser from 2013 to early 2017, requested the identities of some of President Donald Trump's associates be "unmasked" in intelligence reports. Rice is no stranger to political scandals: in 2013, she was grilled for her handling of the bombing at the U.S. diplomatic compound in Benghazi, Libya. But what exactly did Rice uncover when combing over the reports, and were her actions that unusual, or illegal? Let's take a deeper look.
What Did Rice Do?
U.S. intelligence services routinely surveil communications of foreign actors. Sometimes, American citizens are at the other end of these communications. A handful of Trump's campaign associates are suspected of communicating with Russian government officials or businessmen, and therefore, were anonymously "swept up" in intelligence reports on the Russian actors. Usually, the identities of U.S. citizens who are included in foreign surveillance reports are kept hidden, or masked.
Rice, as first reported in Bloomberg View on Monday, repeatedly sought to "unmask" the identities of Trump's associates who were caught up in the intelligence reports during the campaign. In an interview on MSNBC on Tuesday, Rice explained her thought process:
There were occasions when I would receive a report in which a U.S. person was referred to–name not provided, just a U.S. person–and sometimes in that context, in order to understand the importance of the report, and assess its significance, it was necessary to find out, or request the information as to who the U.S. official was.
She did not, however, agree with her critics that her unmasking requests were for political gain. "The allegation is that somehow the Obama Administration officials utilized intelligence for political purposes," she said. "That's absolutely false."
Is What She Did Illegal?
No, it's not. Federal law does indeed allow the national security adviser, which Rice was at the time, to request the identities of U.S. persons in intelligence reports for "context." And there is no evidence she acted to benefit the Obama Administration, or Trump's opponent at the time, Hillary Clinton. That's not stopping Trump, who first claimed Obama wiretapped Trump Tower in a now-infamous tweet in early March, from reaching that conclusion.
"It's such an important story for our country and the world," he said in an interview Wednesday with the New York Times. "It is one of the big stories of our time." He did not elaborate, nor did he provide any fresh evidence to vindicate his earlier claims about Obama wiretapping him, or that Rice's actions were politically motivated or criminal.
Rep. Adam Schiff (D-CA), a leading member of the House committee that is probing Trump's and his associates' ties to Russia, suggested on Wednesday that Rice could be subpoenaed to testify in front of the committee. "Whether she has pertinent testimony or not, I can't say. If she does, we'd be happy to have her come in," he said. He categorically rejected people who try to "besmirch the reputation" of Rice.
"I don't know what it is about Susan Rice that has always drawn the conspiracy theories of that Breitbart crowd," he said. "But they're at it again and it is a disservice to someone who is a public servant." Some Republicans are looking at the new reports as potential evidence that Rice was politically motivated in her handling of the intelligence reports.
"Every presidential administration from FDR through Nixon, the administration in power used intelligence agencies to engage in political espionage," Sen. Mike Lee (R-UT) said in an interview with CNN's Chris Cuomo on Wednesday. "Human behavior hasn't changed. Technology has changed and made a lot of this simpler. We have to be on the lookout for it." While Lee did not conclude Rice's actions amount to a political or criminal act, he did say it is "not absurd to suggest something like this could have happened."