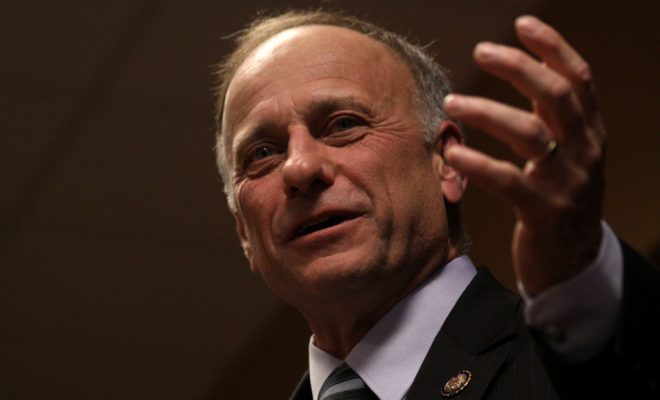 "Steve King" courtesy of Gage Skidmore: License: (CC BY-SA 2.0)
Politics
Congressman Steve King Criticized for Xenophobic Tweet
By
|
Congressman Steve King was heavily criticized this weekend after sending out a tweet that implied a support for white nationalism. The tweet was sent out in praise of Geert Wilders, a far-right Dutch politician who has made a name for himself with strong anti-Islam and anti-immigrant rhetoric.
Wilders understands that culture and demographics are our destiny. We can't restore our civilization with somebody else's babies. https://t.co/4nxLipafWO

— Steve King (@SteveKingIA) March 12, 2017
As Elliot Hannon of Slate very concisely pointed out: "it is hard to read that any other way than it was written. It is an apparent, explicit call to protect white 'culture and demographics' from immigrants. It's the type of rhetoric that you might find at a Klan rally."
Speaking of the Klan, King was almost immediately applauded by a former Imperial Wizard of the KKK, David Duke:
GOD BLESS STEVE KING!!! #TruthRISING https://t.co/oDFel8JDrP

— David Duke (@DrDavidDuke) March 12, 2017
In the wake of the 2016 elections, white nationalism has been on the rise, or at the very least, coming out of the shadows. According to the Southern Poverty Law Center, there has been a "resurgence in white nationalism." Mark Potok, a senior fellow at the SPLC, explained:
Trump's run for office electrified the radical right, which saw in him a champion of the idea that America is fundamentally a white man's country. Several new and energetic groups appeared last year that were almost entirely focused on Trump and seemed to live off his candidacy. The country saw a resurgence of white nationalism that imperils the racial progress we've made, along with the rise of a president whose policies reflect the values of white nationalists.
King has yet to comment on his tweet. But regardless of what he intended, he's had a history of controversial remarks regarding race. In 2013, he
claimed
that many children of undocumented immigrants work as drug mules with "calves the size of cantaloupes."