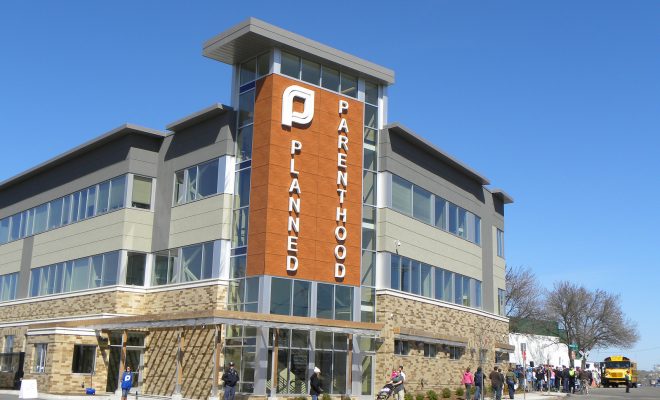 Image Courtesy of Fibonacci Blue; License: (CC BY 2.0)
Politics
Trump Gives States More Freedom to Block Family Planning Funds
By
|
President Donald Trump signed a resolution on Thursday that effectively gives states the option of withholding federal funds from family planning and women's health clinics. Days before Trump was sworn into office, former President Barack Obama signed a rule that barred states from withholding federal money earmarked for family planning centers like Planned Parenthood. The Trump Administration's resolution essentially undoes Obama's action.
The resolution narrowly passed Congress on March 30, as Vice President Mike Pence cast the tie-breaking vote in the Senate. It was applauded by pro-life groups, and derided by pro-choice advocates. Speaker of the House Paul Ryan (R-WI) called the resolution a "major pro-life victory."
Trump has expressed support for Planned Parenthood in the past, but has also come out against abortion. The Republican-controlled Congress is filled with lawmakers who have long-sought greater restrictions on non-profit groups that perform abortions and receive federal grants. Planned Parenthood, a group that largely provides health-related services to women across the country–half of its affiliates do not perform abortions–has become a favorite punching bag of pro-life lawmakers and advocacy groups.
Marjorie Dannenfelser, the president of the Susan B. Anthony List, a pro-life group, welcomed the resolution. "Prioritizing funding away from Planned Parenthood to comprehensive health care alternatives is a winning issue," she said. "We expect to see Congress continue its efforts to redirect additional taxpayer funding away from Planned Parenthood through pro-life health care reform after the spring recess."
Congress is certain to continue pushing a pro-life agenda. But pressure from liberal groups and advisers in his own orbit who lean more pro-choice, like his daughter Ivanka, could push Trump to abandon any hard-line positions on groups like Planned Parenthood. Pro-choice groups are dismayed however, at the direction Trump seems to be taking.
"[Women's] worst fears are now coming true," Dawn Laguens, the executive president of Planned Parenthood said in a statement. "We are facing the worst political attack on women's health in a generation as lawmakers have spent the past three months trading away women's health and rights at every turn." And Heidi Williamson, senior policy analyst at the Center for American Progress, said: "Trump's actions are creating very real and damaging consequences for millions of women and their families, inflicting direct harm on already vulnerable communities."