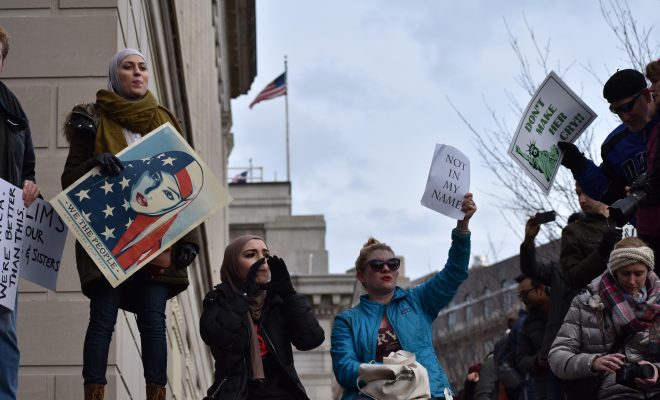 Image Courtesy of Alec Siegel via Law Street Media
Politics
Over 100 State Department Officials Sign Memo Condemning Trump's Refugee Ban
By
|
President Donald Trump's decree on Friday, barring refugees and immigrants from seven largely Muslim countries from entering the U.S., ignited protests across the country on Saturday and Sunday. Now, members of the State Department are joining the dissent: over 100 officials have signed a memorandum that warns that the executive order could in fact deepen the terrorist threat that Trump is seeking to contain.
A draft of the State Department memo said the order runs the risk of increasing "anti-American sentiment" and implies "that we consider all nationals of these countries to be an unacceptable security risk." The executive order suspends the U.S. Refugee Admissions Program for 120 days; Syrian refugees and immigrants are blocked indefinitely. Visitors and immigrants from the other six countries–Iran, Iraq, Somalia, Libya, Yemen, and Sudan–cannot come to the U.S. for 90 days.
This was hardly the first time the State Department has utilized its "dissent channel," which was created after the Vietnam War, but this number of signatories is unprecedented. In June 2016, 51 State Department officials signed a dissent memo that criticized President Barack Obama's policy in Syria. The number of signatories to that memo was considered unusual at the time. The latest memo has attracted nearly double the number of dissenting officials.
State Department Spokesman Mark Toner said the department's "dissent channel" is an "important process." He added: "It allows State employees to express divergent policy views candidly and privately to senior leadership." Traditionally, dissent memos are given to the secretary of state, who has the power to act on the memo. Trump's choice, Rex Tillerson, is not expected to be confirmed until Wednesday.
The White House, which has vehemently defended its actions after a torrent of criticism from religious leaders, Democrats, private citizens, business leaders, and many Republican congressmen, did not seem to react well to the dissent memo. In a press conference on Monday afternoon, Press Secretary Sean Spicer said if somebody "has a problem" with Trump's agenda, then that can "call into question whether or not they should continue in that post or not." Spicer added: "They should get with the program or they should go."
Trump's divisive order led to protests across the country, as people rushed to show support for the Muslim community and for refugees around the globe who will be denied entry into the U.S. for at least four months. In his first statement since leaving office, Obama expressed support for the protests, and criticized his successor's order.
"Citizens exercising their Constitutional right to assemble, organize and have their voices heard by their elected officials is exactly what we expect to see when American values are at stake," the statement from Obama's office said, adding that the former president "fundamentally disagrees with the notion of discriminating against individuals because of their faith or religion."