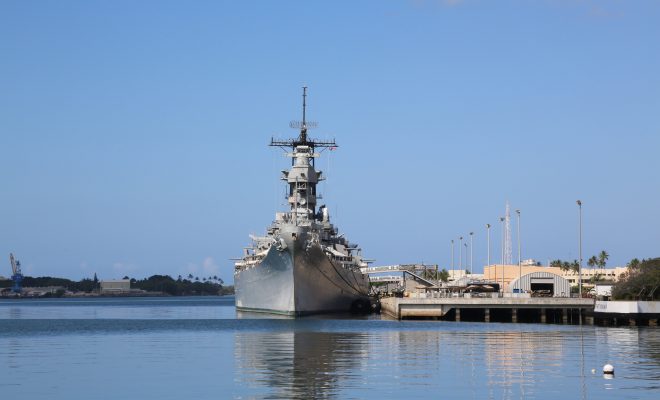 Image Courtesy of Bryan Dorrough; License: (CC BY 2.0)
Politics
Shinzo Abe Offers Condolences to "Victims of the War" During Pearl Harbor Visit
By
|
Japanese Prime Minister Shinzo Abe met with President Barack Obama on Tuesday at Pearl Harbor, 75 years after Japanese airstrikes killed thousands of American sailors and marines. The two laid down wreaths and peace flowers, and spoke of the horrors of war on a memorial atop the USS Arizona, the battleship that was blown to bits on December 7, 1941. The attack catalyzed the U.S. entrance into World War II.
"I offer my sincere and everlasting condolences to the souls of those who lost their lives here, as well as to the spirits of all the brave men and women whose lives were taken by a war that commenced in this very place, and also to the souls of the countless innocent people who became victims of the war," said Abe, who did not apologize for the episode, but added: "We must never repeat the horrors of war again."
When Abe announced his visit to Pearl Harbor earlier this month, Japan's foreign ministry labeled it as an unprecedented trip by a Japanese leader. Soon after, reports came in that Abe was not actually the first Japanese prime minister to visit Pearl Harbor, but potentially the fourth. On Monday, Japanese officials clarified that Abe would be "the first to express remorse" at the memorial, as the other visits were quiet, low-profile affairs.
The bombing of Pearl Harbor, a preemptive strike in what the Japanese saw as an inevitable conflict, precipitated the U.S. entry into the war and, nearly five years later, the atomic destruction of Hiroshima and Nagasaki. Abe's visit comes about six months after Obama became the first sitting U.S. president to visit the Hiroshima memorial, though like Abe on Tuesday, he did not apologize for his country's actions.
In his speech on Tuesday, Obama seemed to nod at the populist tides that are rising in the U.S. and elsewhere. "Even when hatred burns hottest and the tug of tribalism is at the most primal, we must resist the urge to turn in," he said. "We must resist the urge to demonize those who are different. The sacrifice made here, the angst of war, reminds us to seek the divine spark that is common to all humanity."
Obama's successor, President-elect Donald Trump, has said Japan and South Korea should think about expanding their nuclear capacities in the face of growing threats from China and North Korea. Trump, who met with Abe soon after winning the election in November, has also suggested the U.S. pays too much to defend Japan. During Obama's tenure, Abe has managed to forge close diplomatic and economic ties with the U.S., and after his meeting with Trump, he expressed confidence that the relationship would continue.