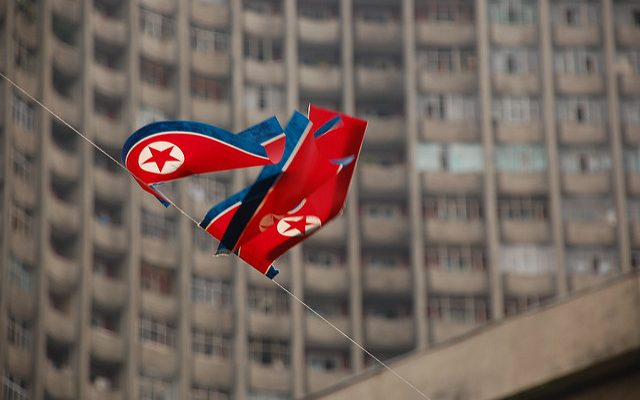 "North Korea — Pyongyang" Courtesy of (stephan): License (CC BY-SA 2.0)
Politics
Dennis Rodman Heads to Favorite Vacation Spot, Again: North Korea
By
|
Former NBA star Dennis Rodman's lifetime of strange behavior continues with yet another trip to the Democratic People's Republic of North Korea this week–his fifth trip to the isolated nation.
Rodman has built a close relationship with North Korean leader Kim Jong Un in recent years, becoming a pseudo-ambassador for the United States. America has no ambassador or diplomatic relations with North Korea; instead, it relies on the Swedish embassy as a mediator, according to its website.
"My mission is to break the ice between hostile countries," Rodman told Sports Illustrated in 2013. "Why it's been left to me to smooth things over, I don't know. Dennis Rodman, of all people. Keeping us safe is really not my job; it's the black guy's [Obama's] job. But I'll tell you this: If I don't finish in the top three for the next Nobel Peace Prize, something's seriously wrong."
Rodman's current trip is being sponsored by Potcoin.com, a cryptocurrency business that does banking for legal marijuana companies. While there is little known about cultural life in North Korea, some defectors have said that marijuana is obtainable and common in North Korea.
I'm back! Thanks to my sponsor https://t.co/zBtIFz1QBr. #NorthKorea #PeaceAndLove https://t.co/G7t6PX3WV9

— Dennis Rodman (@dennisrodman) June 13, 2017
Another one of Rodman's previous trips was sponsored by Paddy Power, an Irish gambling company.
The fact that Rodman, an eccentric NBA star who has headbutted a referee, kicked a cameraman, once married former "Baywatch" star Carmen Electra for less than six months, and then donned a wedding dress and wig to marry himself, is the main liaison between the two nations is pretty strange. But his rapport with the supreme leader is even more bizarre.
Dennis Rodman gives copy of 'The Art of the Deal' to North Korean official https://t.co/QKyhrMvigp via @RyanGaydos pic.twitter.com/FQYXQyGnm6

— Fox News (@FoxNews) June 15, 2017

In the past Rodman has discussed politics with North Korean leaders, in addition to having fun as a private citizen. Prior to his fifth trip, he told to reporters he is "trying to open a door" for better relations between the two nations, according to Chicago Tribune.
In 2014, Kenneth Bae, a South Korean-born American citizen, publicly thanked Rodman following his release from the country after being imprisoned and sentenced the prior year to serve 15 years of hard labor in the country. Bae called Rodman the "catalyst" for his release.
Coincidentally, University of Virginia student Otto Warmbier was released back to the United States within hours of Rodman's arrival in North Korea Tuesday. It remains murky as to whether or not Rodman had something to do with Warmbier's return, but Michael Anton, a US national security spokesman, told CNN he didn't believe Rodman played a role.
Rodman endorsed President Donald Trump during the 2016 campaign after twice participating as a contestant in Trump's reality show "Celebrity Apprentice." Since his inauguration, Trump has repeatedly criticized and threatened both Kim and North Korea.
North Korea is behaving very badly. They have been "playing" the United States for years. China has done little to help!

— Donald J. Trump (@realDonaldTrump) March 17, 2017
Despite Trump's public criticisms, Rodman still believes the president would approve of him befriending Kim. When asked by reporters in Beijing if Trump was aware of the trip, Rodman replied, "Well, I'm pretty sure he's pretty much happy with the fact that I'm over here trying to accomplish something that we both need."
Multiple sources involved in unofficial talks with North Korea, according to the Washington Post, claim the Trump Administration is using Rodman as a back channel to North Korea, rather than the usual lineup of experts and policy makers. But it remains to be seen whether or not basketball can actually bridge the seemingly impassable divide between the two countries.