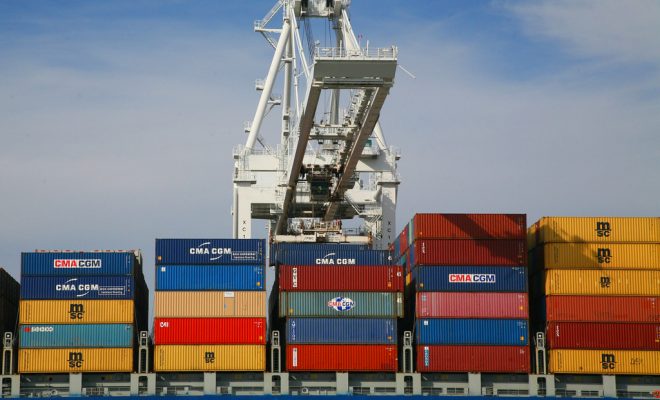 Image Courtesy of Jitze Couperus; License: (CC BY 2.0)
Politics
Senate Overwhelmingly Approves U.S. Trade Rep Robert Lighthizer
By
|
President Donald Trump's vow to renegotiate NAFTA is one step closer to materializing: the Senate confirmed Robert Lighthizer, Trump's U.S. Trade Representative nominee, on Thursday afternoon. The 82-14 vote ended months of uncertainty surrounding the Trump Administration's trade plans, because it had been functioning without a chief trade envoy. Trump has repeatedly promised to retool the North American Free Trade Agreement with Mexico and Canada. The president has called the 1994 deal a "disaster."
Lighthizer, 69, has decades of trade experience, both in the public and private sectors. He served as a senior trade official in the Reagan Administration. Since then, Lighthizer has worked as a trade lawyer, representing clients in the U.S. and abroad. His work for foreign firms–between 1985 and 1990, he represented five foreign clients, including Brazil's government–threatened to derail his nomination.
UPDATE: U.S. Senate confirms Trump's pick for trade czar, Robert Lighthizer, setting stage for NAFTA renegotiation https://t.co/nlr5Ql8DWS pic.twitter.com/XcnxhXKb2M

— CTV News (@CTVNews) May 11, 2017
A 1995 amendment to the 1974 Trade Act stipulates a nominee who "directly represented, aided, or advised a foreign entity" cannot serve as the U.S. Trade Representative, unless granted a waiver from Congress. But in spite of the potential legal landfalls, the Senate decided that it was high time to install the chief U.S. trade representative, and confirmed Lighthizer by a landslide.
"Mr. Lighthizer's years of experience in public service, including as staff director for the Senate Finance Committee, as deputy USTR during the Reagan administration, and in private practice make him extremely well qualified to serve as our nation's trade representative," Sen. Orrin Hatch, chairman of the Senate Finance Committee, told his colleagues on Thursday from the Senate floor.
Now that he has been confirmed, Lighthizer will move to carry out the Trump Administration's trade agenda, including exploring ways to renegotiate NAFTA. Lighthizer has also expressed concerns that China is indeed a currency manipulator, a worry Trump promulgated throughout the campaign, but has since walked back on. During his confirmation hearing in March, Lighthizer said he previously believed China "was a substantial currency manipulator," but whether it still is "is another question."
Still, though a vast majority of Democrats and Republicans ultimately supported his confirmation, two Republican Senators were in the "nay" camp, Senators John McCain (AZ) and Ben Sasse (NE). In a recent letter to Lighthizer, the two explained their hesitation, saying "your confirmation process has failed to reassure us that you understand the North American Free Trade Agreement's positive economic benefits to our respective States and the nation as a whole."