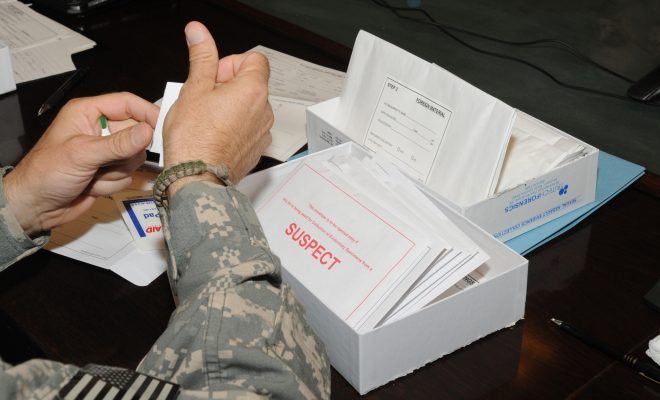 Image Courtesy of [Sgt. Rebecca Linder via Wikimedia]
Politics
Senate Approves Bill Outlining Basic Rights for Rape Survivors
By
|
The Senate voted unanimously Monday to approve legislation that will outline basic rights for sexual assault and rape survivors–the first federal bill to ever do so.
The Sexual Assault Survivors' Rights Act was sponsored primarily by Senator Jeanne Shaheen (D) of New Hampshire with the help of Amanda Nguyen, the founder of Rise, a nonprofit that protects the rights of sexual assault survivors.
The bill passed the Senate today!! https://t.co/fYh4TUZfr3

— Amanda (@nguyen_amanda) May 24, 2016

According to Refinery29 the bill would provide the following four essential rights to sexual assault survivors:
1. The right to have a sexual assault evidence collection kit preserved for the entire relevant statute of limitations.
2. The right to be notified in writing 60 days prior to the destruction of a sexual assault evidence collection kit.
3. The right to request further preservation of a sexual assault evidence collection kit.
4. The right to be informed of important results of a sexual assault forensic examination.
Nguyen lobbied Senator Shaheen to introduce the bill after struggling to preserve her own rape kit for years due to a tangled web of bureaucracy.
The 24-year-old State Department liaison to the White House and astronaut-in-training was sexually assaulted two years ago in Cambridge and submitted a rape kit as evidence to the State of Massachusetts. According to The Guardian, "Massachusetts law gives Nguyen 15 years to decide whether to pursue legal action. But a pamphlet handed to her at the hospital said that unless she filed an 'extension request,' under state law, the state could destroy her rape kit in just six months."
After scrambling to file an extension and find the location of her rape kit, Nguyen was able to prevent her rape kit from being destroyed. Unfortunately despite the 15 year statue of limitations, Nguyen is still required to return to Massachusetts every six months to repeat the process.
To see just how messed up our sexual assault laws are watch this fantastic "Funny or Die" clip.
Shaheen commented on the Senate victory in a statement saying,
It's been 10 months now since Amanda Nguyen first walked into my office. The system failed Amanda and so many other survivors of sexual assault across the country. Today, the Senate has sent a message that it's time to change the culture around how survivors are treated in our criminal justice system.
Currently there is not a single state where the law guarantees rape kits be kept until the statute of limitations expires. The Sexual Assault Survivors' Rights Act could help alleviate the nation's backlog of untested rape kits, as well as provide a major solution by making sure that these kits are not trashed legally by labs.
The bill must now pass through the House of Representatives before it can become a law. If you'd like to get involved you can join Nguyen's Change.org petition to urge Congress to "support common sense rape survivor rights." The petition currently has over 106,000 signatures, and needs roughly 43,000 more to reach its goal.