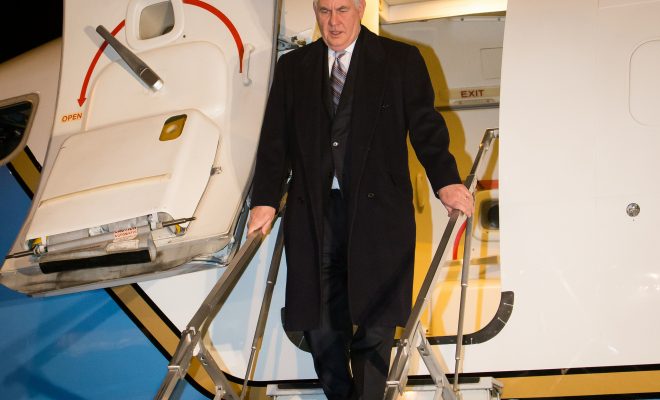 Image Courtesy of U.S. Embassy Tokyo; License: (CC BY-ND 2.0)
Politics
Rex Tillerson to Skip NATO Meeting, Meet with Chinese and Russian Leaders Instead
By
|
Rex Tillerson, the Secretary of State and former CEO of oil giant Exxon Mobil, will not attend a meeting with NATO representatives next month in Brussels, a spokeswoman said on Monday. Instead, Tillerson will travel to President Donald Trump's Mar-a-Lago resort in Florida to meet with China's President Xi Jinping. Tillerson will then travel to the G7 meeting in Sicily, Italy, followed by a jaunt to Moscow to meet with Russian officials.
In forgoing the NATO meeting in favor of a trip to meet with Kremlin officials, Tillerson is only compounding the dim view some have of his personal ties to Russia, and the Trump Administration's connections as well. Tillerson steered Exxon through lucrative drilling contracts with Russia, and President Vladimir Putin awarded him the Order of Friendship in 2013.
And Trump himself has called NATO "obsolete," though members of his cabinet–and Vice President Mike Pence–have since tried to walk back those remarks. Then of course, there are Trump's murky relations with Russia: FBI Director James Comey said on Monday that Trump's associates are currently under investigation for communications with Russia during the campaign.
Rep. Eliot Engel (D-NY) said Tillerson's decision to skip the NATO meeting would do little to alleviate the defense alliance's concerns about U.S. support. "Donald Trump's Administration is making a grave error that will shake the confidence of America's most important alliance and feed the concern that this Administration [is] simply too cozy with Vladimir Putin," Engel, the ranking Democrat on the House Foreign Affairs Committee, said in a statement.
The State Department spokeswoman said in lieu of Tillerson, Under Secretary of State for Political Affair Tom Shannon will represent the U.S. in Brussels. Tillerson will, however, be meeting with NATO foreign ministers on Wednesday in Washington. The meeting will focus on defeating Islamic State, or ISIS, the spokeswoman said.
A former U.S. official and former NATO diplomat told Reuters that the alliance offered to change the date of the Brussels meeting so that Tillerson could attend, but that the department declined the offer. Speaking on the condition of anonymity, the former diplomat said engagement with NATO is vital given the growing Russian threat. "Given the challenge that Russia poses, not just to the United States but to Europe, it's critical to engage on the basis of a united front if at all possible," the diplomat said.