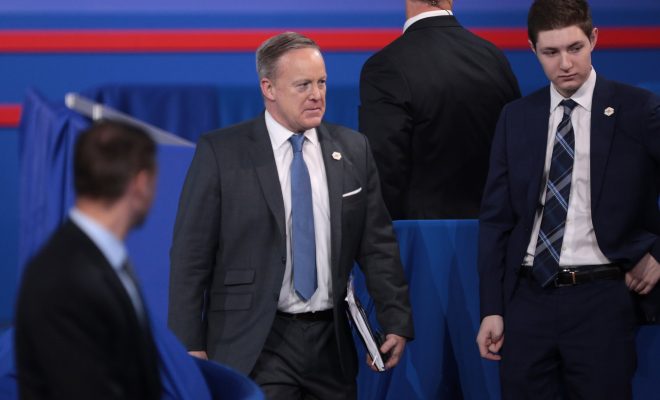 Image Courtesy of Gage Skidmore; License: (CC BY-SA 2.0)
Politics
Did Sean Spicer Break a Federal Rule with a Tweet?
By
|
Early Friday morning, the Labor Department released a report that the U.S. economy added 235,000 jobs in February, President Donald Trump's first full month in office. Eleven minutes after the report was released, Trump retweeted a story from Drudge Report, a conservative-leaning outlet, about the job growth. "GREAT AGAIN: +235,000," Trump commented along with his retweet. About ten minutes later, Sean Spicer, the White House press secretary, also sent out a tweet commenting on the Labor Department's report:
Great news for American workers: economy added 235,000 new jobs, unemployment rate drops to 4.7% in first report for @POTUS Trump

— Sean Spicer (@PressSec) March 10, 2017
Spicer meant well and, of course, responding positively to positive news is hardly a crime. But, in fact, Spicer's tweet might have violated an obscure federal rule. In September 1985, under President Ronald Reagan, the Office of Management and Budget enacted an ordinance called the Statistical Policy Directive No. 3. According to the rule, "employees of the executive branch shall not comment publicly on the data until at least one hour after the official release time."
OMB said the rule is meant "to preserve the distinction between the policy-neutral release of data by statistical agencies and their interpretation by policy officials." The report was used as a political tool soon after its release, as Trump seemed to take credit for the sunny February numbers, and his detractors credited President Barack Obama. Whoever deserves the credit, Spicer was simply "excited to see so many Americans back to work," he said at Friday's press briefing, in response to a question about his potentially rule-breaking tweet.
The Labor Department's report was embargoed until 8:30 Friday morning, when it was officially released, but the White House received the report beforehand. It is unclear if Spicer, or Trump, with his retweet of the Drudge Report story, broke the federal rule. It does not appear the rule has been enforced in the past. For one, Obama did not tweet with the same vigor and enthusiasm as Trump does. And, traditionally, presidents wait more than 11 minutes to comment on a jobs report.