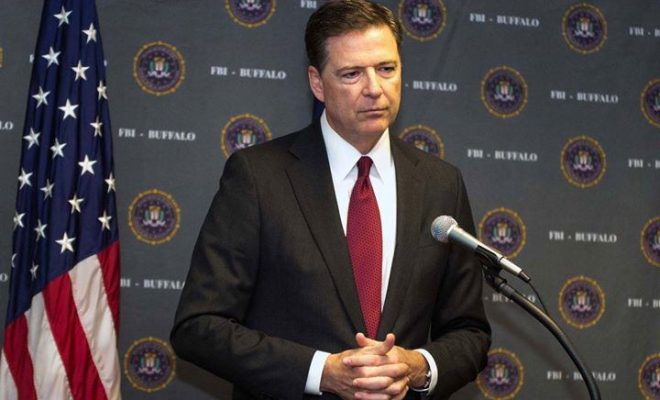 Image Courtesy of Rich Girard; License: (CC BY-SA 2.0)
Politics
The FBI Now Agrees with the CIA: Russia Intended to Help Trump
By
|
Earlier this week, there was a meeting between the heads of the country's leading intelligence agencies: FBI Director James Comey, National Intelligence Director James Clapper, and CIA Director John Brennan. The gathering's subject matter: Russia's hacking of email networks during the presidential election. On Friday, an official with direct knowledge of the meeting said that the agencies now agree that Russia's hacking operation had the intention of putting President-elect Donald Trump in the White House.
When the CIA first announced its assessment that Russia had indeed hacked into both the Democratic and Republican email networks, only leaked the Democrat's emails, and aimed to aid Trump, the FBI was hesitant to come to the same conclusion. Trump has called the CIA's claims "ridiculous," and continues to deflect any notion that he was aided by Russia.
The official close to the FBI said that the bureau was timid at first because officials entertained other motives for the Russian hacks: Perhaps Russia was trying to undermine Clinton's position if she were to be elected, or maybe it was a personal rebuke as a result of her dicey past with Putin? Eventually, the FBI agreed that Russia's actions were motivated by putting Trump in the Oval Office.
Meanwhile, Trump's opponent during the election, Democrat Hillary Clinton, told Democratic Party donors on Friday that the Russian breach was not only directed by President Vladimir Putin, but that the episode was a personal attack on her. She said Putin has a "personal beef" with her, alluding to her statement five years ago that Russia's parliamentary elections were"rigged." Clinton said: "Putin publicly blamed me for the outpouring of outrage by his own people, and that is the direct line between what he said back then and what he did in this election."
But Clinton also called the Russian hacks "an attack against our country," not just her campaign. "We are well beyond normal political concerns here," she said. "This is about the integrity of our democracy and the security of our nation." President Barack Obama, in his final news conference of the year, defended his handling of the Russian hacks. He said he even delivered this stern command to Putin when they met in September: "Cut it out."