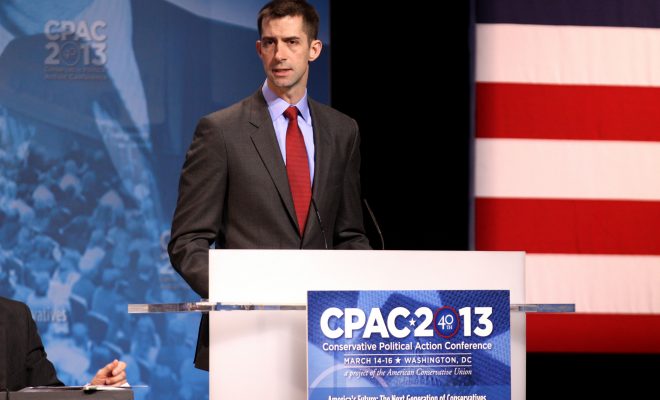 "Tom Cotton" Courtesy of Gage Skidmore License: (CC BY-SA 2.0)
Politics
How the RAISE Act Would Cut Back Legal Immigration
By
|
Two senators aren't just looking to prevent illegal immigration–they want to scale back legal immigration too.
Sen. Tom Cotton (R-Arkansas) and Sen. David Perdue (R-Georgia) have introduced a bill called the Reforming American Immigration for Strong Employment (RAISE) Act, which aims to slash overall immigration to the U.S. by 40 percent over the next year and 50 percent in the next 10 years.
If approved, the bill would limit the number of refugees who obtain permanent residence to 50,000 a year and end the diversity visa lottery, which distributes 50,000 visas annually to citizens of countries with low rates of immigration to the U.S.
Though Perdue said reducing immigration would "help improve the quality of American jobs and wages," one Democratic senator argued otherwise.
Sen. Jeanne Shaheen (D-New Hampshire) said in a statement:
This legislation sends a terrible message to the rest of the world and is unquestionably a job killer. Immigrants contribute greatly to our country's entrepreneurial spirit, spurring job growth in New Hampshire and across the country. Cutting successful visa programs and needlessly separating immigrant families is just wrong and senseless.
While U.S. citizens are currently allowed to sponsor their spouses, parents, siblings and children for green cards, the bill mandates that moving forward, they would only be able to sponsor spouses and unmarried minor children.
Cotton said in an interview with MSNBC that the RAISE Act would curb non-skills-based immigration. Immigrants with employment-based green cards would not be affected, he said.
"It simply tries to get a handle on 1 million immigrants coming here a year, virtually none of whom are coming here based on their employment skills or demonstrated economic need," he said. "I don't think our immigration system is working for Americans."
He told POLITICO that President Donald Trump's administration has been receptive to the proposal so far.
"Donald Trump was the only one who saw that most Americans don't like our current immigration system," he said. "This is just the area of politics where I think leaders and elites are most disconnected from the people. Not just Republicans but in both parties, in business, in the media, in the academy, culture and so forth."