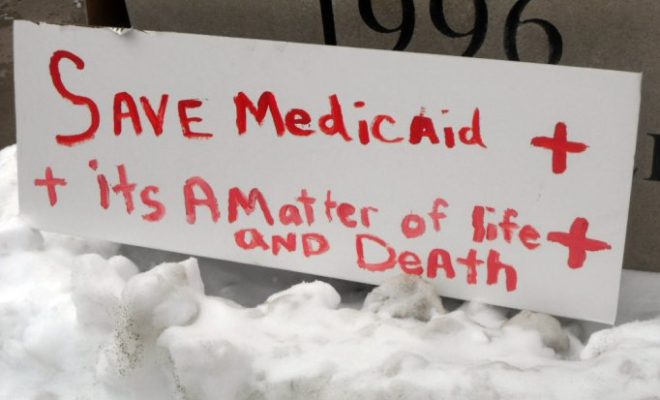 "Save Medicaid + its a matter of life and Death" Courtesy of Rochelle Hartman: License (CC BY 2.0).
Politics
Protesters Physically Removed from Outside Mitch McConnell's Office
By
|
As Republican Senators prepared to release a version of their new health care legislation on Thursday, a group of protesters gathered outside Senate Majority Leader Mitch McConnell's office. But many of them were eventually physically removed from the scene.
The rally was organized by ADAPT, a national disability rights organization, according to CNN. In their statement, the protesters said that they are "demanding [McConnell] bring an end to attacks on disabled people's freedom which are expected in the bill."
So, the majority of protesters were either advocates for those with disabilities or those directly impacted by a handicap, according to USA Today. Instead of calling their protest a "sit-in" they referred to it as a "die-in," demonstrating their belief that the GOP health care bill would put many Americans in grave danger without dependable health care.
ADAPT's statement also noted that the protest took place on the 18th anniversary of Olmstead v. L.C. – the Supreme Court decision that recognized disabled people's right to live in communities rather than institutions.
After President Donald Trump took office and vowed to repeal the Affordable Healthcare Act, the Republicans have been trying to craft their own version of the bill. They faced harsh criticism from both sides of the aisle for their secrecy regarding the bill's contents before unveiling it on Thursday.
Citizens nationwide were offended by both the process surrounding the creation of the bill and the contents of the bill itself. So, the protesters felt it was incumbent to voice their concerns to one of the most powerful Republicans in Congress.
While the protests remained mostly peaceful, Capitol Police were called in at some point and began to forcefully remove protesters despite their constitutional right to protest the government.
Capitol Police are physically removing protesters who are staging a "die-in" in front of McConnell's office pic.twitter.com/8BU0dW63VI

— Andrew Desiderio (@desiderioDC) June 22, 2017
The police force ultimately arrested around 20 people, many of whom were either on respirators or confined to wheelchairs, according to the Huffington Post. Custodians also had to be sent to the hallway in order to clean up blood, according to Daily Beast reporter Andrew Desiderio.
The group took particular exception to the proposed cuts to Medicaid. At one point the crowd began chanting: "No cuts to Medicaid, save our liberty!"
"No cuts to Medicaid, save our liberty." Group chants in front of @SenateMajLdr's office. pic.twitter.com/fVJpufMDgC

— Jessica Smith (@JessicaASmith8) June 22, 2017
The health care bill has to be voted on by the Senate and go back to the House, so it will likely be modified. But the violence that these protesters faced at the hands of Capitol Police is upsetting. Instead of having their voices heard, they had their free speech stymied and were physically injured.