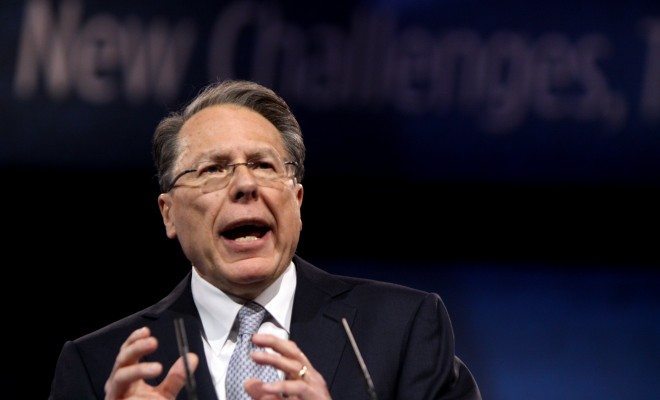 Image courtesy of [Gage Skidmore via Flickr]
Politics
President Obama Shouldn't Debate Wayne LaPierre: Here's Why
By
|
Today, Wayne LaPierre, the CEO and Executive Vice President of the National Rifle Association, released a video in which he challenged President Barack Obama to a debate. This comes on the heels of executive orders released by Obama in which the president expanded background checks, emphasized that anyone who sells guns needs a license, and called for a beefing of up gun law enforcements, among other facets. After releasing information about the executive order, Obama participated in a town hall on guns with CNN's Anderson Cooper, and criticized the NRA for not attending, saying: "And by the way, there's a reason why the NRA is not here. They're just down the street. And since this is the main reason they exist, you'd think they'd be prepared to have a debate with…a president." Today's video from LaPierre appears to be in response to both that comment and the executive orders; watch it for yourself:
In the video, LaPierre invites Obama to join him in a one-on-one, one-hour debate, with a moderator that they have both agreed upon, and without any "pre-screened questions"–the NRA alleges that CNN only offered them pre-screened questions for the town hall with Obama, and that's why it chose not to participate.
I get that Obama basically invited a debate with LaPierre when he called the NRA out for not attending the CNN town hall, but I don't think he should take LaPierre up on this offer, and here's why: the NRA does not deserve that kind of respect, particularly not after this video.
The NRA has relatively high levels of support, that's for sure. In a Gallup poll conducted in October 2015, the NRA was viewed as favorable by 58 percent of Americans. The NRA sees particularly high favorability among gun owners, with 78 percent viewing the NRA favorably. While it's unclear how high gun ownership is in the United States–a recent National Opinion Research Center (NORC) poll puts the percentage of American households that have a gun at 31 percent–it's clear that guns are, for many, a part of daily American life.
Yet despite the fact that the NRA has relatively high levels of support, so do the kinds of actions Obama is advocating for in the executive orders. For example, 85 percent of Americans are in favor of conducting background checks on those buying guns. Another 79 percent want laws that prevent people who are deemed mentally ill from buying guns, and 70 percent want a database that tracks gun sales. The things that Obama is advocating can't be considered extreme unless you want to say that 85 percent of Americans are extreme–yet the NRA goes so far as to make claims that Obama "wants to destroy the NRA before the election, so that Hillary can destroy the Second Amendment after it." The NRA is clearly using fear-mongering to rally support.
Part of me would love to see a showdown between LaPierre and Obama. But at the same time, LaPierre should not be given the national platform to have that conversation unless he's willing to use facts instead of scare tactics–and this video makes me doubt that.