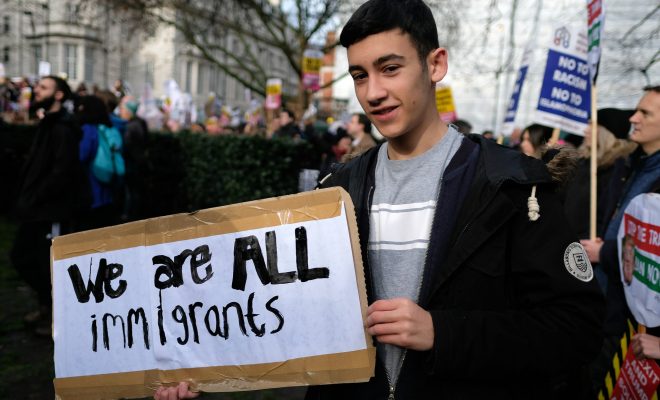 "We are all immigrants." Courtesy of Alisdare Hickson: License (CC BY-SA 2.0)
Politics
People Around the Country Are Protesting ICE Arrests and Deportations
By
|
"We stand up here, Mr. Jones. Don't forget," Bernard Marks, a Holocaust survivor who now lives in Sacramento as an educator, said on Tuesday. Marks was one of hundreds of protesters who gave pointed and stirring speeches at a public forum in Sacramento featuring County Sheriff Scott Jones and Immigration and Customs Enforcement (ICE) Acting Director Thomas Homan.
"When I was a little boy in Poland, for no other reason but for being Jewish, I was hauled off by the Nazis," Marks said. "I spent five and a half years in concentration camp [sic] for one reason and for one reason only: because we picked on people."
His speech was the boiling point of an already toxic event. From the very start of the forum, Jones and Homan were shouted at by a hostile crowd, as captured by the Los Angeles Times:
Attendees shouted and cursed, chanted and held up protest signs. "Lies!" some yelled when the officials said authorities did not target immigrants who did not pose a danger to the community.

"Where is the money, Jones?" others asked when the sheriff attempted to explain ICE immigration detention contracts, a budget he said totaled $4.8 million for his department.

"You are bringing the uncertainty," one man shouted at Homan before deputies escorted him out. "You are bringing the uncertainty to everybody."
Across the country, numerous stories have popped up about actions taken by ICE against illegal immigrants, including Dreamers, or immigrants who came to the country illegally as children. In Portland, a Dreamer was arrested and held in a detention center, which echoes stories concerning detained Dreamers in places like Seattle and Mississippi. In Fort Worth, Texas, 26 parolees suspected of being undocumented immigrants were recently arrested when they showed up to perform their mandatory community service, according to a local NBC affiliate.
They are now detained at an ICE facility in Dallas while they await their fate. In Los Angeles, the LAPD has said reporting of sexual assault and domestic violence among Latino residents has plummeted in 2017, presumably due to concerns over deportation. In the midst of these stories, residents, politicians, and activists around the country have decided to take a stand. And, in a heartbreaking story which has since gone viral, Fatima Avelica, a 13-year-old girl whose father was detained by ICE while he was dropping her off at school, spoke through her tears while telling her story at Sen. Chuck Schumer's (D-NY) news conference on Tuesday.
Sacramento isn't the only city standing up for immigrants. On Monday, hundreds of people gathered in Boston outside the JFK Federal Building (where immigration hearings are held) to protest the arrest of three human rights activists from Vermont. Two of the activists were released on bail later that day. In Somerville, Massachusetts, after Bristol County Sheriff Thomas Hodgson called for public government officials of sanctuary cities to be arrested for not following federal immigration orders, Somerville Mayor Joe Curtatone taunted him on Facebook, writing "come and get me."
Further up north, in Rochester, New York, two immigration protests were held in a span of 24 hours after a woman and her brother, originally from Guatemala, were detained. In Charlotte, North Carolina, 200 protesters "shouted down" a city council meeting concerning the city's coordination with ICE officials and federal immigration orders. In Chicago, immigration advocates staged a sit-in at a regional ICE office. And in Cape May, New Jersey, protesters made their voices heard at a Board of Freeholders meeting at the county courthouse discussing the county's new proposed partnership with ICE, according to Shore News Today.
People around the country are standing up for immigrants, and for ICE Acting Director Homan, that is something that will be hard to forget.