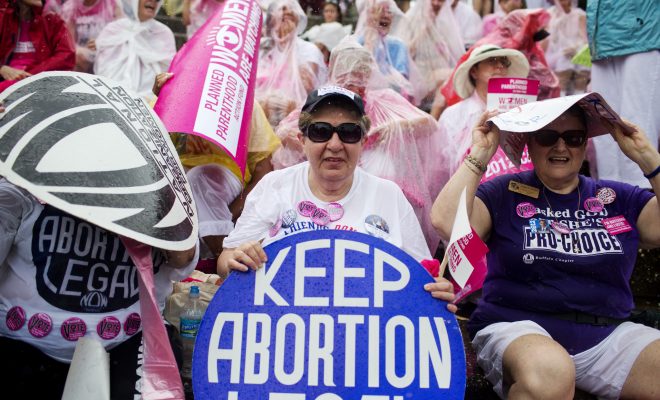 Image courtesy of PBS NewsHour; license: (CC BY 2.0)
Politics
Paul Ryan: The GOP Will Defund Planned Parenthood
By
|
House Speaker Paul Ryan confirmed many women's fears when he said that the Republican Party will defund Planned Parenthood, as part of a bill that aims to repeal Obamacare. The GOP is planning a "reconciliation bill," which means that Democrats will be prevented from filibustering. Ryan spoke at a press conference on Capitol Hill on Thursday, but didn't provide any further details.
This is an important step for many Republicans as conservatives have tried for years to completely defund Planned Parenthood because it offers abortions. But, the organization also offers education, birth control, breast cancer screenings, STD tests, and more. This move could prove a challenge for some more moderate Republicans who previously have voted against defunding the organization. Many people reacted strongly to the news:
Ryan says that defunding Planned Parenthood will be included in ACA repeal. Because, let's take away healthcare from as many as possible.

— Dante Atkins (@DanteAtkins) January 5, 2017
Some pointed out that it's not a question of cutting off direct federal funding to Planned Parenthood. "Defunding" Planned Parenthood means cutting off reimbursement for the care it provides people who rely on Medicaid–a hard blow for low-income people.
Please pay attention to what "defunding" Planned Parenthood means: refusing to reimburse for their care offered to poor folks. https://t.co/muci1CSAGb

— Sarah Seltzer (@sarahmseltzer) January 5, 2017
Planned Parenthood launched a campaign Thursday to counteract the effort, and has planned protests, letters, and other actions over the coming months.
There's no line item in a budget that goes to Planned Parenthood — simply reimbursement for care rendered, like other health providers. pic.twitter.com/SaTIpE9PUh

— Planned Parenthood (@PPact) January 5, 2017
The President of Planned Parenthood, Cecile Richards, said that it was no coincidence that the announcement came "the day after Vice President-elect Mike Pence, a long-time opponent of Planned Parenthood, held a closed-door meeting with Speaker Ryan and the Republican leadership." If the bill passes, Planned Parenthood would lose about $400 million in Medicaid money in the first year, and it would cut off care access for 400,000 women, according to the nonpartisan Congressional Budget Office.
House Pro-Choice Caucus on why #ACA is essential for repro health care. Co-Chair @RepDianaDeGette at podium. pic.twitter.com/JFXPzJA3mq

— Christine Grimaldi (@chgrimaldi) January 5, 2017
Richards said:
Defunding Planned Parenthood is dangerous to people's health, it's unpopular, and it would leave people across the country without care. They cannot afford to have basic reproductive health care attacked. Planned Parenthood has been here for 100 years and we're going to be here for 100 more.
Though conservative Republicans have fought Planned Parenthood for years, it seems like a majority of Americans view Planned Parenthood positively—59 percent according to a Gallup poll from 2015. President-elect Donald Trump himself has changed his opinion a couple of times. After saying that the organization has helped millions of women, he later encouraged efforts to defund it. He also used to call himself "very pro-choice," but is now against abortion. What is certain, is that Democrats, Planned Parenthood and many, many women will not give up without a fight.