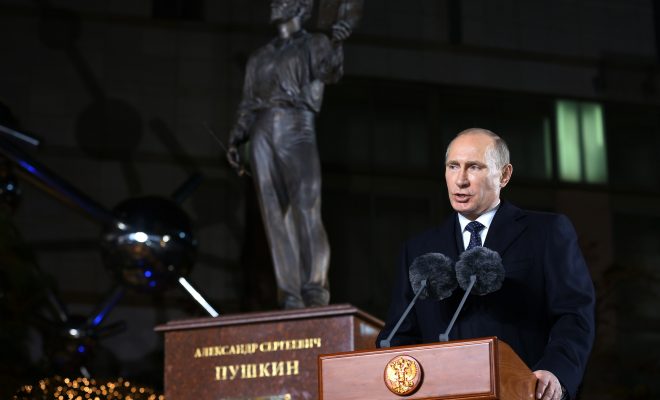 Image Courtesy of Republic of Korea; License: (CC BY-SA 2.0)
Politics
Did Paul Manafort Work to Benefit Vladimir Putin's Government?
By
|
Paul Manafort, President Donald Trump's former campaign chairman, lobbied on behalf of a Russian oligarch with close ties to Russian President Vladimir Putin. According to an Associated Press investigation, Manafort began discussing a strategy, as early as June 2005, with Russian aluminum magnate Oleg Deripaska to push his business interests in Russia and other former Soviet republics.
One of Deripaska's goals, as indicated by memos obtained by the AP, was to support Putin's government and to undermine anti-Putin politicians in Russia and former Soviet republics like Uzbekistan, Tajikistan, and Georgia. 
In a 2005 memo obtained by the AP, Manafort wrote to Deripaska, whose net worth is $5.1 billion according to Forbes, and described a "great service that can re-focus, both internally and externally, the policies of the Putin government." Manafort added: "We are now of the belief that this model can greatly benefit the Putin Government if employed at the correct levels with the appropriate commitment to success."
Manafort's "great service" involved influencing politics, business exchanges, and news not only in Russia and former Soviet states, but in the U.S. as well, according to the AP. Manafort and Deripaska signed a contract to carry out the lobbying efforts in 2006. Deripaska paid Manafort $10 million per year for his efforts, and the two maintained a business relationship until at least 2009.
Last August, Trump asked Manafort to resign as his campaign chairman after reports came out that he lobbied on behalf of former Ukrainian President Viktor Yanukovych, who had a cozy relationship with Putin. On Monday, FBI Director James Comey revealed that a number of Trump's campaign associates are under investigation for their Russian ties. And though Comey declined to explicitly name Manafort as one of the associates in question, it is highly likely he is a subject of the probe.
After Comey testified in front of the House Intelligence Committee on Monday, White House Press Secretary Sean Spicer said Manafort "played a very limited role for a very limited amount of time" for the Trump campaign. In fact, Manafort was campaign chairman from March to August, a crucial six-month stretch of the campaign.
Manafort denied any malfeasance in a statement to the AP: "I worked with Oleg Deripaska almost a decade ago representing him on business and personal matters in countries where he had investments," Manafort said. "My work for Mr. Deripaska did not involve representing Russia's political interests."
Lawmakers on both sides of the aisle expressed concern over the AP's report. Sen. Lindsey Graham (R-SC) said Manafort's lobbying could amount to "basically taking money to stop the spread of democracy, and that would be very disturbing to me." Rep. Jackie Speier (D-CA), a member of the House Intelligence Committee, said the AP report "undermines the groundless assertions that the administration has been making that there are no ties between President Trump and Russia."