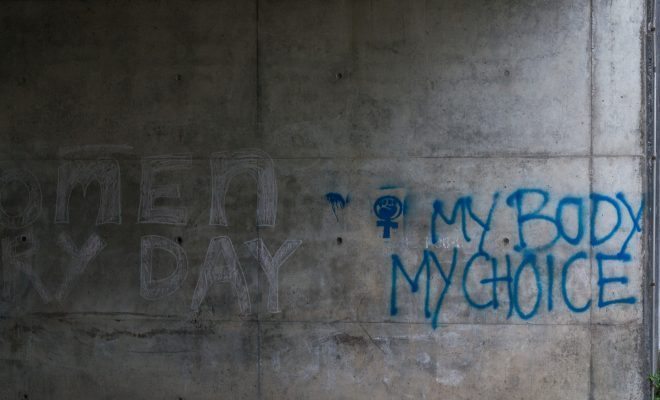 "2012 Abortion Protest" courtesy of [Edson Chilundo via Flickr]
Politics
Oklahoma Governor Vetoes Bill That Would Criminalize Abortions
By
|
Oklahoma Governor Mary Fallin has vetoed the much-criticized bill that would have made performing abortions a felony in the state. This is a relief for women in Oklahoma, who nonetheless still face enormous challenges if they make the decision to have an abortion, in a state that is highly conservative.
Oklahoma's legislature managed to yet again come up with a bill restricting women's rights, even though a roaring majority of politicians in the state are men. The bill was passed on Thursday and was the very first of its kind, according to abortion rights group Center for Reproductive Rights, in that it not only banned the procedure but also attached a penalty for a physician who performs an abortion.
Oklahoma is not safe for women

— Lena Dunham (@lenadunham) May 20, 2016
Governor Fallin had five days to decide whether to approve or veto the bill, which goes by SB1552. She made up her mind faster than that by announcing her veto on Friday, saying in a statement: "The bill is so ambiguous and so vague that doctors cannot be certain what medical circumstances would be considered 'necessary to preserve the life of the mother."
Nancy Northup, president of the Center for Reproductive Rights,  said: "Governor Fallin did the right thing today in vetoing this utterly unconstitutional and dangerous bill."
But it is still hard for women to access the service of abortion–there are only two clinics in the whole state. Oklahoma has, in fact, been trying to pass laws banning abortions almost every year–and as many as eight of them have been challenged as unconstitutional during the past five years.
Abortion has been legalized nationwide since 1973, and the SB1552 was actually ultimately meant to challenge that, said the bill's sponsor Republican Nathan Dahm earlier this week. His opinion is that life begins at conception, and it is the duty of the state to protect life from that point on. On Friday, he was reportedly considering taking actions to override the governor's veto via the legislature.