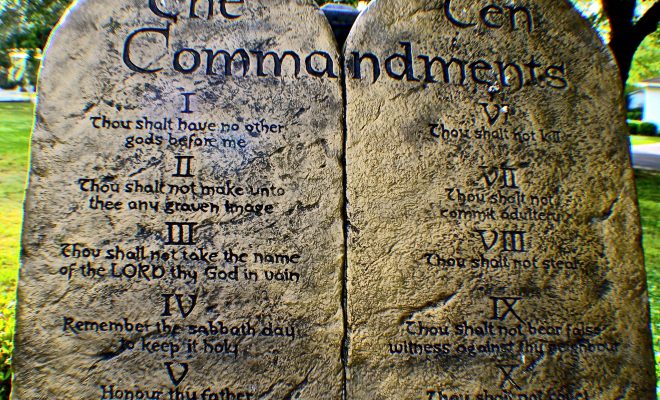 "Ten Commandments Tablets" courtesy of George Bannister; license: (CC BY 2.0)
Weird News
Man Arrested for Driving His Car Into Ten Commandments Display at Arkansas Capitol
By
|
An Arkansas man has been arrested for allegedly driving his car into a Ten Commandments monument at the state Capitol early Wednesday morning. Interestingly, this is the second time that Michael Tate Reed, 32, has been arrested for driving into a religious monument. The last time was in 2014, when he ran over another Ten Commandments display at the Oklahoma State Capitol. That time he said Satan made him do it and he reportedly threatened to kill President Obama.
But Reed seems to be non-partisan–he also recently threatened President Trump on social media. He had also planned for the event by creating a GoFundMe page, with which he hoped to raise enough money to replace his car. Around 5 a.m. on Wednesday, Reed drove his car straight into the statue, while shouting, "Oh my goodness, Freedom!" He also streamed the incident on Facebook Live.
Before the crash, he said in the Facebook video that he was back at it with "white plans," but it's unclear what he meant by that. He also said that he is a Christian but added, "one thing I do not support is the violation of our constitutional right to have the freedom that's guaranteed to us, that guarantees us the separation of church and state, because no one religion should the government represent." Finally, he asked people who support his cause to use the hashtag #Checkmate on social media.
NEW: Man accused of knocking over 10 Commandments statue at AR Capitol did the same thing in OK, 3 years ago:https://t.co/3F8dJsNdur #arpx pic.twitter.com/YtdpH2j292

— Emma Pettit (@EmmaJanePettit) June 28, 2017
The monument crumbled and Reed was taken to the hospital and then to jail. The stone statue had only been up for a day, but Republican State Senator Jason Rapert was confident a new monument would be up soon. He sponsored a law that took effect in 2015, which allowed private citizens to fund the religious monument and put it outside the Capitol. Opponents of that bill said that escaping a government-established religion was one of the things the colonists fled when they first set foot in America.
The crash sparked both criticism and support on social media. Some hailed him as a hero and patriot for standing up for the constitution, while others said the opposite. Former Arkansas Governor Mike Huckabee did not exactly support what happened.
Some idiot in my home state broke all 10 commandments at the same time. He wasn't Moses and it wasn't Mt. Sinai. https://t.co/r8hXrJ32JZ

— Gov. Mike Huckabee (@GovMikeHuckabee) June 28, 2017
But others definitely did.
some idiot legislator thought it was okay to place a religious statue in a place where governing occurs, despite separation of church and st https://t.co/1CmKRwVTZg

— John Hornor (@johnhornor) June 28, 2017
Reed was diagnosed with schizoaffective disorder back in 2015. Later that year, he sent a letter to the Tulsa World describing why he had destroyed the monument at the state's Capitol. He wrote that he got his inspiration from Dracula movies, that he thought he was the incarnation of a British occult leader called Aleister Crowley, and that a killer virus in the shape of Michael Jackson's spirit had infected meat. He said that at the time of the 2014 crash he was also trying to get in touch with Satan's high priestess, Gwyneth Paltrow.
After the earlier incident, many Republican lawmakers tried to paint what happened as politically motivated or an act of violence or terrorism, but Reed's family insisted it was his illness. He was released from a mental health facility after doctors found a combination of medicines that seemed to work for him. It's not clear what prompted Wednesday's crash, but hopefully, he will get proper care.