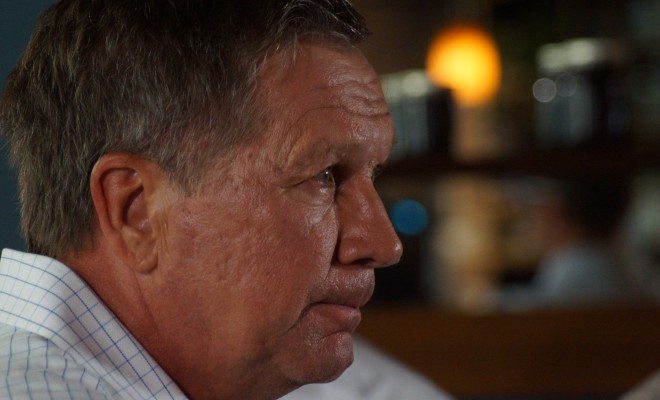 "John Kasich" Courtesy of [Marc Nozell via Flickr]
Politics
Ohio Governor John Kasich Signs Bill that Will Defund Planned Parenthood
By
|
The Republican presidential candidate that many had previously hailed as the most moderate GOP contender signed a bill Sunday to prohibit the Ohio state health department from contracting with entities that perform or promote abortions.
John Kasich, the Governor of Ohio and presidential hopeful, fulfilled his promise to defund Planned Parenthood, even though the healthcare provider is not specifically named in the bill. However slashing funds is one way that lawmakers plan to get rid of the healthcare provider, which just happens to refer patients to and provide abortion services.
The law will prevent roughly $1.3 million in funding from the Ohio State Health Department from going to STD/HIV testing, general health screenings, and prevention of violence against women. 
@CNN @JohnKasich pic.twitter.com/1xZb2a42uX

— Venisha (@Venishhhha) February 22, 2016
It should be noted that state and federal laws already prohibit taxpayer funds from going towards abortion services, except in the cases of rape, incest, and "therapeutic" abortions (medical diagnosis to save the mother via abortion).
@CNN @JohnKasich How about letting the women in this country dictate things?
— Bomber Doobie (@Bomber_Doobie) February 22, 2016
Planned Parenthood President Cecile Richards responded to the news, not surprisingly, unhappy and disappointed.
"It's clear Kasich has no regard for women's health or lives, and will stop at nothing to block health care for the tens of thousands of Ohioans who rely on Planned Parenthood," Richards said in a statement. She added that it would have "devastating consequences for women across Ohio."
While many see Kasich as the great moderate of the election season, his voting record when it comes to abortion says otherwise. As the Huffington Post has reported:
Just months after becoming governor, Kasich signed a bill banning abortions after 20 weeks of pregnancy unless the fetus is nonviable. In 2013, Kasich signed a budget that stripped roughly $1.4 million in family planning funds from Planned Parenthood, required abortion providers to perform ultrasounds on patients seeking abortions and allowed rape crisis centers to be stripped of their public funds if they referred victims to abortion providers, among other measures. The budget also blocked public hospitals from entering into transfer agreements for medical emergencies with abortion clinics, threatening clinics with closure if they couldn't get a private hospital to enter into those agreements. Because private hospitals often have religious affiliations, this arrangement often wasn't possible.

In all, nearly half of Ohio's abortion clinics have closed since Kasich took office.
Kasich's gubernatorial office spokesman Joe Andrews responded in a statement with:
The Ohio Department of Health has at least 150 other sub-grantees and contractors for the affected grants and projects addressing such issues as new born babies, infant mortality, expectant mothers, violence against women, and minority HIV/AIDS," the statement said. "ODH will reallocate funding from ineligible providers under the new law to other currently eligible providers, ranging from local health departments and community organizations to hospitals and universities. These organizations will be required to submit proposals in order to receive funding.
The issues that arise from Kasich's signing of the bill go past clinics not having proper funding. This goes as far as to cause issues with insurers and hospitals. As Cleveland.com reports, "…the Columbus Public Health department said it would be unable to contract with any Columbus hospital because they either provide abortion services, contract with abortion clinics, or refer patients to abortion services."
In addition, Texas is a great example of what can happen when you remove a major women's health service from Medicaid plans. Recently, women in Texas stopped using the most effective forms of contraceptives, and the birth rate rose (on the taxpayer's tab), according to a study done by researchers from the University of Texas at Austin. According to researchers, the number of claims for long-acting contraception dropped by more than a third and births paid for by Medicaid shot up by 27 percent.
Of course, there is no way of saying definitively that this will happen in Ohio as well, but it would not come as a shock. As Guttmacher Institute's Elizabeth Nash stated, "It's one of the states people look to, to see what the next restriction is going to look like."