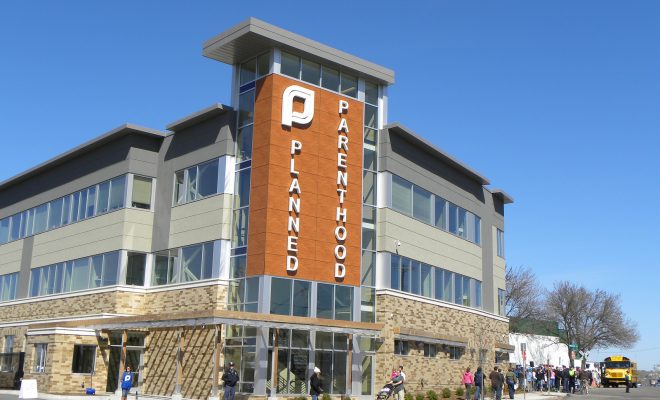 Image Courtesy of Fibonacci Blue; License: (CC BY 2.0)
Politics
HHS Rule Bars States from Withholding Federal Family-Planning Grants
By
|
State and local governments are barred from withholding federal family-planning grants "for reasons other than its ability to provide Title X services," according to a new rule by the Department of Health and Human Services. As President Barack Obama's days in office are waning, so are his chances to secure federal funding for Planned Parenthood and other community health clinics. The rule will go into effect two days before Donald Trump is inaugurated on January 20.
Many anticipate President-elect Trump, and a Republican-controlled Congress, will attempt to dismantle and defund abortion-providing clinics that currently receive federal money. Nearly half of Planned Parenthood-affiliated clinics do not perform abortions. Proposed in September, the rule clarifies the requirements for states when distributing federal money meant for clinics that provide family-planning services like contraception, STD treatment, cancer screenings, and abortions.
"This rule will strengthen access to essential services like cancer screenings and contraception for some of the most vulnerable patients in this country," said Dr. Karen Scott, Chief Medical Officer of the Office of the Assistant Secretary for Health. "Public comments showed overwhelming support for finalizing the rule, which clarifies that all organizations able to provide these services should be eligible to compete for funds."
In 2015, according to the press release from HHS, 91 grants were distributed to nearly 4,000 clinics who provided services to more than four million patients. Current federal law dictates that no government-funds can go directly toward abortions, except in cases or rape or incest, or when the procedure would be lifesaving. But as a dozen or so Republican-led states have sought to block Planned Parenthood and other clinics from seeing any government funding, the new rule should ensure that clinics are not underfunded for political reasons.
A key question moving forward will be how the Trump administration decides to handle the new rule. For one, Trump has expressed support for Planned Parenthood, at least for its services other than abortions. But he also selected Tom Price, who has supported efforts to defund Planned Parenthood, as the next health secretary. Time will reveal the fate of the new ruling, but according to HHS, rolling it back would be a time-consuming process that would require a joint resolution from both chambers of Congress, as well as approval from the incoming president.