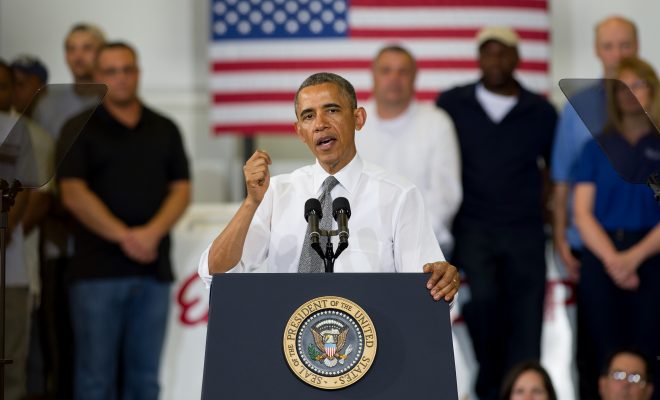 Image Courtesy of Maryland GovPics; License: (CC BY 2.0)
Politics
Obama Responds to Russian Cyberattack with Sanctions and Ejections
By
|
Months after learning of Russia's cyberattack on the email networks of U.S. political operatives, President Barack Obama announced new sanctions on Thursday, targeting specific actors and institutions that played a role in the hack. Signed while he was on vacation in Hawaii, Obama's executive action calls for the ejection of 35 Russian intelligence operatives from the U.S. It also levies sanctions and travel bans on four top officials from the GRU, a Russian intelligence service U.S. officials believe was behind the Russian cyberattack.
"All Americans should be alarmed by Russia's actions," Obama said in a statement, adding that the order "provides additional authority for responding to certain cyber activity that seeks to interfere with or undermine our election processes and institutions, or those of our allies or partners." Some of the sanctions however, are more symbolic than substantive, as Russian intelligence officials from the GRU scarcely travel to the U.S., and rarely hold assets on U.S. soil.
Russia's Foreign Ministry Commissioner for Human Rights said the sanctions were "futile and counterproductive," and demonstrate "the total disorientation of the outgoing US administration." The Russian embassy in London took to Twitter to air its grievances over Obama's measures:
President Obama expels 35 🇷🇺 diplomats in Cold War deja vu. As everybody, incl 🇺🇸 people, will be glad to see the last of this hapless Adm. pic.twitter.com/mleqA16H8D

— Russian Embassy, UK (@RussianEmbassy) December 29, 2016
Obama's response could have an effect on how President-elect Donald Trump deals with the Russian hacking. U.S. intelligence agencies agree that the Kremlin was behind the email hacks in the months leading up to Election Day. The CIA and the FBI recently concluded that the motivation behind the intrusion was to put Trump in the White House. And while a bi-partisan group of Congressmen have called for a congressional investigation into the cyberattack, Trump has largely played down its role in his win; he even called the claims "ridiculous."
A joint analysis report issued Thursday by the Department of Homeland Security and the FBI found that Russia conducted hacks in the summer of 2015, and the spring of 2016. The report said the operations targeted "government organizations, critical infrastructure entities, think tanks, universities, political organizations, and corporations leading to the theft of information." If Trump lifts Obama's order, he would be contradicting the conclusions of his own intelligence agencies, a move that could lead to friction in Congress.
While vacationing at the Mar-a-Lago resort in Palm Beach, Florida on Wednesday, Trump was asked by reporters about Obama's forthcoming response. "I think we ought to get on with our lives," he said. "I think that computers have complicated lives very greatly. The whole age of computer has made it where nobody knows exactly what is going on. We have speed, we have a lot of other things, but I'm not sure we have the kind, the security we need."
Meanwhile, some U.S. officials, including Vice President Joe Biden, said there could be more a private, covert response in the near future. Senate Minority Leader Chuck Schumer (D-NY) acknowledged the need to "punch back against Russia" in a statement. He added: "I hope the incoming Trump administration, which has been far too close to Russia throughout the campaign and transition, won't think for one second about weakening these new sanctions or our existing regime." House Speaker Paul Ryan (R-WI) said the sanctions were "overdue" and an "appropriate way to end eight years of failed policy with Russia."