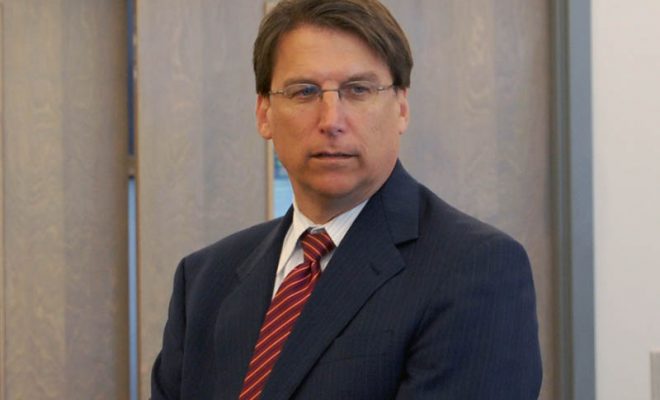 Image Courtesy of James Willamor; License: (CC BY-SA 2.0)
Politics
North Carolina Governor Race is Officially Over as McCrory Concedes Defeat
By
|
Putting an end to a nearly month-long stalemate on Monday, Republican Gov. Pat McCrory of North Carolina ceded the election to his Democratic opponent, Roy Cooper. McCrory lost the election last month by just over 10,000 votes, among the slimmest margins in the country. But McCrory demanded a recount, despite, as of his concession on Monday, no evidence of widespread voter fraud.
In a video statement on Monday, McCrory said:
Despite continued questions that should be answered regarding the voting process, I personally believe that the majority of our citizens have spoken and we now should do everything we can to support the 75th governor of North Carolina, Roy Cooper.
McCrory was elected to his first term as governor in 2012, enjoying support from both sides of the aisle. But in March, McCrory's attracted national attention, largely negative, for signing H.B. 2, the law that required people in public buildings to use the bathroom that corresponded to the gender listed on their birth certificate. His stock quickly fell. The law ended up costing North Carolina important investments, as artists refused to perform there, and the NBA decided its All-Star game would take place in New Orleans, not Charlotte as originally planned.
McCrory finally conceded the NC governor's race, proving even the most stubborn stains on our social fabric can be scrubbed out eventually.

— George Takei (@GeorgeTakei) December 5, 2016
With McCrory's loss, North Carolina's governorship is one of the few bright spots for Democrats, as Republicans maintained their majority in both chambers of Congress, and President-elect Donald Trump won the White House. The GOP gained two governorships overall on November 8 and now hold 33 in total, up from 31 during the last term. And while Cooper's win is a boost for Democrats, broadly and in North Carolina, the state legislature is still controlled by Republicans.
Roy Cooper, who has served as North Carolina's attorney general since 2001, was able to breathe a sigh of relief on Monday. In a statement, Cooper stressed unity moving forward. "It will be the honor of my life to serve this great state," he said. "While this was a divisive election season, I know still that there is more that unites us than divides us. Together, we can make North Carolina the shining beacon in the south by investing in our schools, supporting working families and building a state that works for everyone."