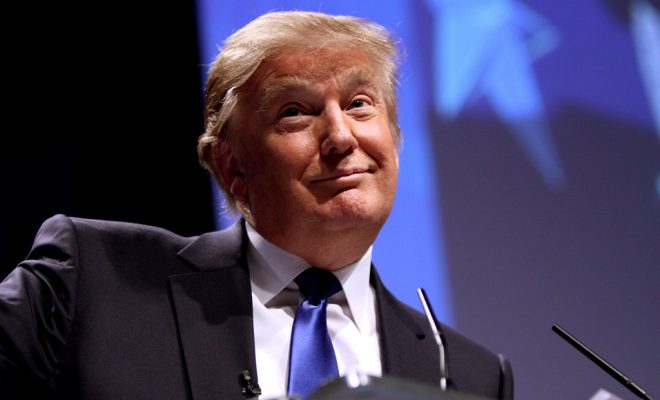 "Donald Trump" Courtesy of Gage Skidmore; License: (CC BY-SA 2.0)
Politics
No Funding for Trump's Border Wall in Spending Bill
By
|
Congress reached an agreement over the weekend to keep the government running through the fiscal year, which ends on September 30. While a vote has yet to take place–the House is expected to take up the bill on Wednesday–the spending bill omits a number of President Donald Trump's stated priorities, and generally preserves or increases spending to programs Democrats feared might receive steep cuts. To avoid a government shutdown, Congress must pass the bill by midnight on Friday.
The trillion-dollar budget is far from the austere outline Trump proposed earlier this year. The bill also does not block federal funding from going to Planned Parenthood, which conservatives have long threatened. The National Institute of Health, one of the domestic programs Trump sought to shift money away from, will see a two billion dollar infusion of cash.
Although the Trump Administration averted a shutdown, the spending bill is hardly the conservative blueprint Trump and GOP lawmakers had been seeking. For one, while it includes a $1.5 billion increase in funding for border security, it also contains explicit language barring further construction of a wall on the border with Mexico. Trump, during a rally in Harrisburg, Pennsylvania on Saturday, reiterated his promise to build the wall.
Democratic leaders seemed pleased with the final agreement. Senate Minority Leader. Chuck Schumer (D-NY) said, "The bill ensured taxpayer dollars aren't used to fund an ineffective border wall" and "increases investments in programs that the middle-class relies on, like medical research, education, and infrastructure." House Minority Leader Nancy Pelosi (D-CA), cheered the bill's funding for Puerto Rico's Medicaid program.
White House and Republican leaders focused on the agreement's increase in military spending, which was markedly less than what Trump called for. Vice President Mike Pence said the bill is a "bipartisan win" that will be a "significant increase in military spending." Paul Ryan (R-WI), the Speaker of the House, said it reflects Trump's "commitment to rebuild our military for the 21st century and bolster our nation's border security to protect our homeland."
In addition to preserving funds for Planned Parenthood and blocking money for a border wall, Democrats avoided other cuts they have feared since Trump's proposed budget in March. The Environmental Protection Agency's budget will only dip by one percent. There will be no funding for a deportation force. And, despite threats from Attorney General Jeff Sessions, funding to so-called "sanctuary cities" will not be reduced.
For some conservative members of Congress, however, the bill includes too many concessions to the opposition party. House Freedom Caucus member Rep. Jim Jordan (R-OH) said, "you're going to see conservatives have some real concerns with this legislation." Jordan's reasoning: "We told [voters] we were going to do a short-term spending bill that was going to come due at the end of April so that we could fight on these very issues, and now it looks like we're not going to do that."