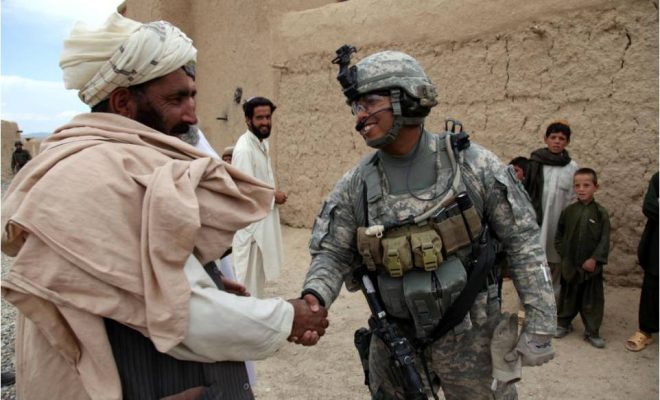 Image Courtesy of ResoluteSupportMedia; License: (CC BY 2.0)
Politics
Senate Votes to Renew Visa Program for Afghans Who Aided U.S. in Wartime
By
|
The Senate passed a measure on Thursday that will renew the Special Immigrant Visa (SIV) program, designed to provide asylum for Afghan translators and interpreters who assisted U.S. troops in Afghanistan and Iraq. Attached to a larger bill–the National Defense Authorization Act–the measure added 1,500 additional visas to the program, which lawmakers from both parties and military officials traditionally support.
Though it easily passed by a vote of 92-7, lawmakers have been at odds during the past few months over the specifics of the measure, including how many visas should be added, and how much it would cost. Earlier this year, President Obama requested 4,000 applicants be added to the program, though the measure missed that mark by 2,500 visas. There are currently 13,000 pending applications from sanctuary-seekers.
Since U.S. troops invaded Afghanistan in October 2001, thousands of Afghans have assisted troops as translators and interpreters. Many face threats when they return home, from the Taliban–which remains a force in the country–other extremist groups, or even from their neighbors who may view them as traitors. The SIV program provides sanctuary for Afghan nationals who were employed for at least two years on behalf of the U.S. military, and who experience an "ongoing serious threat as a consequence of such employment."
In August, Senator John McCain (R-AZ), a vocal proponent of the program, offered a blunt warning on the Senate floor: "People are going to die," he said to a fellow Republican who wanted to block more visas from being added to the program. "Don't you understand the gravity of that?"
The program began in 2009 under the Afghan Allies Protection Act, and is traditionally attached as a clause to the annual military bill. This year's bill, expected to cost $619 billion, also calls for a 2.1 percent wage increase for U.S. troops, the steepest increase since 2010. One lingering question about the SIV program is how President-elect Trump will handle it.
Three of Trump's cabinet choices thus far are former generals, and the military is a traditional supporter of the program. But more visas would also mean more Muslims in the U.S. Throughout his campaign, Trump often targeted Muslims with harsh rhetoric, and has flirted with banning the entire faith from the country.